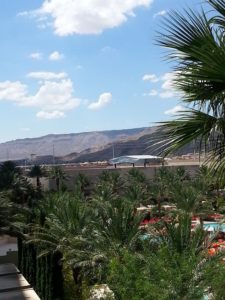 Yesterday I was facilitating  a working session for a leadership team at the Red Rock Casino and Resort outside of Las Vegas. I took the picture from the balcony outside of our meeting room at lunch.  As is often the case, the photo doesn't do justice to reality, yet I hope you can see that it was a fabulous view.
I wondered at the end of the day if anyone else saw what was right in front of them. At breaks and lunch, participants did what most people do – they had conversations, got on their phones, or checked/sent email.  In other words, they made progress on the tasks on their lists.  But did they see what was in front of them?
The very nice conference room had drapes across the windows that kept this view from people all day, and there were two doors to go out to the porch, where the panoramic landscape came into full view.  The gorgeous sight was right in front of them… but few saw it.
As leaders, we must see a broader perspective, for if we don't, it is highly unlikely our teams will. And make no mistake about it, our job is to be looking out, looking higher, and looking further, because we are leading people into the future.
Yes, we must answer calls, and reply to emails.  But the future is rarely found there.  The future is seen by taking intentional time to look up and see what is in front of us. This isn't a "stop and smell the roses" piece of advice (though that isn't bad either), this is a strategic imperative.
Are you looking to the future, or are you just looking at a phone?
Are you changing your perspective to see things in new ways, or changing the settings in your next PowerPoint presentation?
You are a leader. You must look up and see the future you are leading people towards, so you can make the adjustments and course corrections that might be needed.