By Steve Yastrow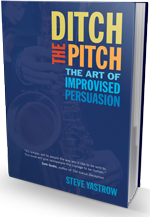 The premise is simple. People are persuaded or make decisions based on their reasons, not yours. And so our completely preplanned, preprogrammed, and scripted presentations won't work.
Whether you are a sales person, leader, business owner or parent, you are "pitching" your ideas to others every day, and this easy to follow and read book by Steve Yastrow gives us tangible approaches for doing just that from a logical (but perhaps surprising) perspective.
If you have ever watched improvisational actors perform, you have likely been amazed by what they are able to do "off the cuff". The author takes us inside the approaches, strategies and lessons of improv so we can apply it to the conversations we have when we want to persuade or sell someone else.
Like a good teacher he suggests behaviors for doing exactly that. In short, he suggests six habits, which are:
Habit #1 – Think input before output – this habit is about awareness, observation and saying less!
Habit #2 – Size up the scene – this is all about knowing your audience and the context of the conversation, from their perspective.
Habit #3 – Create a series of "yeses" – this is about working with what you have been given and helping others continue to say yes.
Habit #4 – Explore and heighten – this is about finding the customer (or other person's path) rather than getting them to follow yours.
Habit #5 – Focus the conversation on your customer – two key ideas here are make 95% of the conversation about the other person, and never speak more than a paragraph at a time before giving the other person a chance to get into the conversation.
Habit #6 – Don't rush the story – you aren't trying to tell all you know and persuade through "proof". This habit helps you do this more effectively.
After taking the middle section of the book to do this, Yastrow closes the book with several chapters to help the reader apply the habits.
The premise is a good one, the approach is a useful one and it is written in a helpful and accessible way – the combination of those factors makes this a book worth reading, dog-earing and coming back to in the future.