By Deb Calvert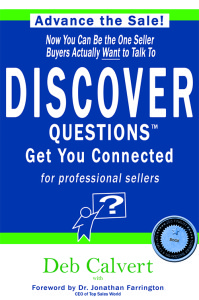 If you are looking at the cover of this book and seeing "for professional sellers" you might be ready to stop reading.
Don't.
This book is written from the perspective of people in a selling position, but think about this for a second. Do you want to improve your relationships? Asking better questions can help. Do you want to be more influential? Asking better questions can help.
In short, we are all selling ourselves and our ideas, and questions are one of the most powerful tools we have to make that happen. And this book is a great one to help you with that.
The book is built in three major sections
How questions help us get better connected.
The types of questions to use
Practice
The core of this book is the types of questions (though the first section is very useful in providing context and is very well written). The author puts the questions in eight buckets that you can remember using the word DISCOVER:
Date questions
Issue questions
Solution questions
Consequence questions
Outcome questions
Value questions
Example questions
Rationale questions
Each type is described in its own chapter with examples and specific usage situations.
How were these question types determined?
The DISCOVER method was determined after 25 years of study. The author, as a seller, sales manager, sales consultant and more, collected the questions from over 10,000 sales calls. She analyzed each question in terms of what response it created. From that analysis the 8 questions types were determined.
This is a practical and very valuable book. Remember that it is written for sales people so the examples reflect that. If you can get beyond the relative lack of examples for your profession (which really should be easy), this book will be of great value to you.