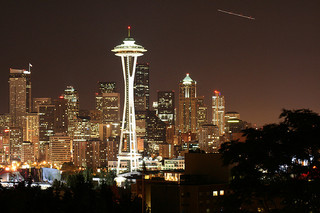 It is a big country we live in. I'm reminded of it often, especially on long flights from my Midwestern home to western locales. While we deliver workshops in many locations around the country, next month we are going to the northwest corner of the continental United States to Seattle to deliver not one, but four of our workshops in one week.
We are bringing four workshops to Seattle for at least three reasons:
To make it more convenient for those who live in that part of the country to attend.
To give others a good reason to fly to a great American city (and my favorite city to look at from my window seat on a sunny day)
To spend time with some of our great Clients in the Pacific Northwest.
On May 14-15 I will be leading the Leadership Training Camp, and Carl Smith, one of the co-designers of the Ultimate Communicator Training Camp, will be leading this powerful workshop.
On May 16-17 I will be leading our Coaching Training Camp, and Sara Jane Hope, the first trainer we certified, will lead the renown Bud to Boss Workshop, based on our book From Bud to Boss – Secrets to a Successful Transition to Remarkable Leadership.
Why am I sharing this with you? Of course, I'd like you to join us and let us help you improve your skills.
But I'm sharing this in particular because with multiple workshops taking place, this opportunity might be the chance for many leaders and achievers in your organization to get new skills in the same week! Imagine everyone getting the precise training they need – and everyone returning with renewed energy and commitment at the same time! So here is the deal . . .
Normally we offer a group discount of $100 off registrations for three or more people to a single workshop. If you have three or more who need any one of these events, you can take advantage of that. But because we are doing all these events together, you can get the discount regardless of which workshop your folks need most!
If you register at least three people – regardless of the workshop they select – each will get the $100 discount. To take advantage of the Seattle special, place your order by contacting Marlene at 317.759.3171.
What if You Don't Need Training Now?
If you are in Seattle, but don't have an immediate training need, and would like to talk about other ways we can help you, let us know by filling out this form, and we will see if we can meet in person while I am in town.
If you have never been to Seattle, here's a great business reason.
If you live there, I hope this offer is helpful to you.
Either way, I hope to see you!
photo credit: chethan shankar via photopin cc