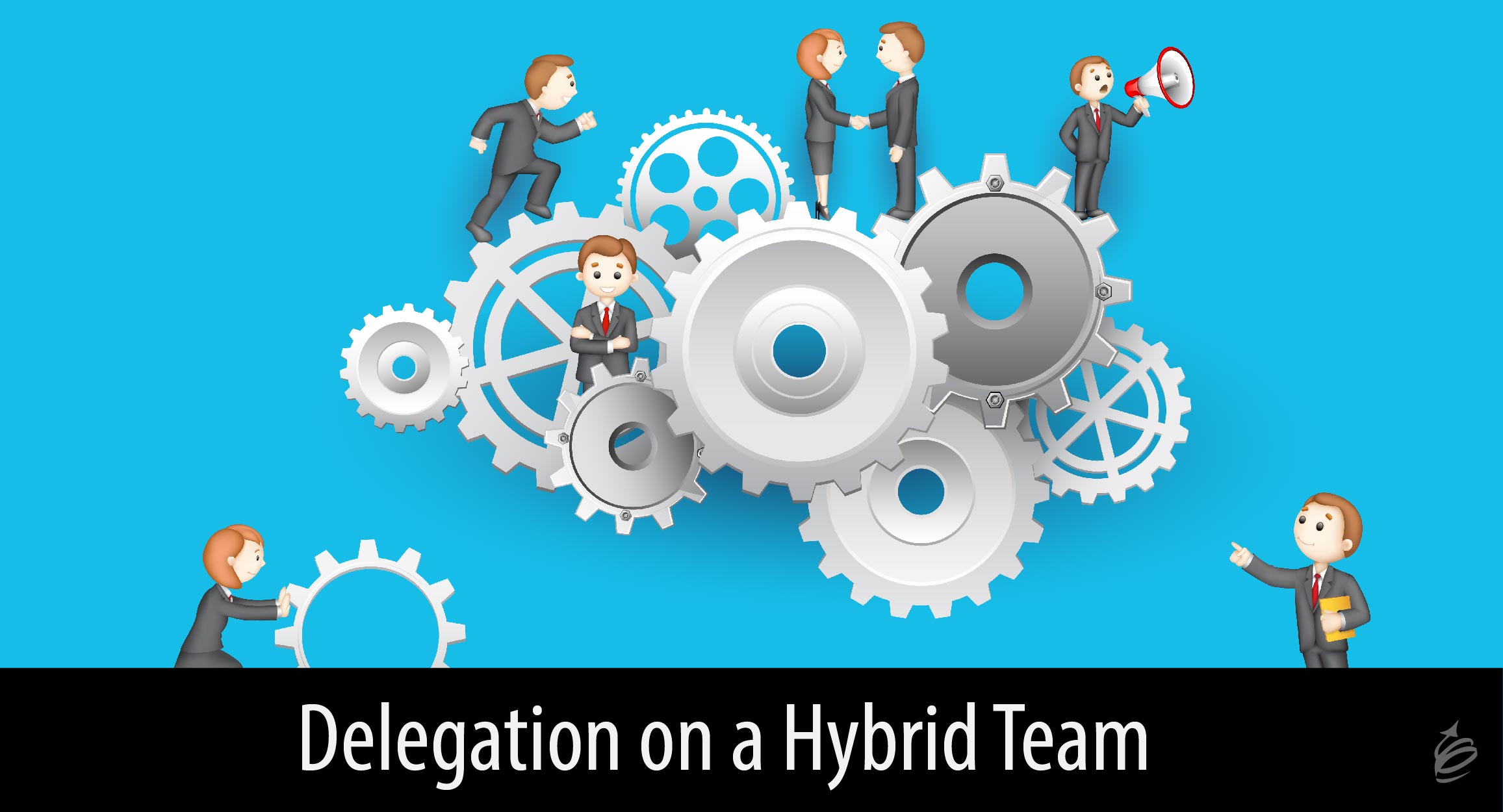 All effective leaders must learn to delegate effectively, and increasingly, they are leading hybrid teams – where some of the team members are co-located and others work away from the rest of the group. This fact changes delegation dynamics in ways you may not have considered. If you want to delegate more effectively to a variety of team members, regardless of their work location, read on.
Right or wrong, intentional or not, when delegating on a hybrid team, people will be reading into your choices. While those located with you may feel they get all the work, the remote folks may think they never get any opportunities to learn new things. The local folks may think you preferentially treat the remote members, and vice versa. They may all be right, or not at all, but their perceptions will be all that matters. And delegating more effectively can impact those perceptions in a positive way.
Here are five things to do to make this work better for everyone – you, the person to whom you are delegating, and the rest of the team.
Do delegate
Too many leaders don't because of control issues, ego issues, confidence issues and more. While it goes without saying, it must be said: effective leaders delegate some work so they can do other work that might otherwise not get done. Think about the work you need to do (likely important, but not urgent), and use that as one more reason to help others do some of your existing work.
Really delegate (don't dump)
Too many leaders don't really delegate with the purpose of helping others learn and expand their contribution, but rather dump work when they become too busy or stressed. Delegation is about helping the other person be successful with a new task or responsibility, not dumping your work on them. (Tweet that). Whether your team member is down the hallway or half way around the world, take the time to help them succeed in the tasks/responsibilities you are delegating.
Spread the wealth
I mentioned this above. Be aware about who you are delegating to. Don't just share with your "chosen ones", don't just grab the handy person down the hall, or the person in Remoteville just to "give them a chance." Be conscious and intentional about who you delegate to, and share the opportunities broadly. If delegation is about helping people grow and develop, why wouldn't we spread the wealth?
Keep everyone informed
Gossip and mistrust grows in the dark. When people don't know who you are delegating to or why, the perceptions may be inaccurate, and almost assuredly negative in tone. Let the team know who you are delegating tasks to, let them know your intention, and give them the chance to be successful. If you do that and spread the wealth, you will have a more developed team and avoid many of the risks of delegation on a hybrid team.
Listen for the unspoken
This sounds paradoxically impossible, but it is important! Since perceptions become reality, be aware of what they might be. Listen, observe, ask questions, and ask for feedback to make sure your intentions in delegation (and other things) aren't being misunderstood. Once you are aware of any misunderstandings, you can work to correct them. But if you don't know, they likely won't resolve themselves.
Delegation is just one factor that impacts the success of remote leaders and remote teams. If you want to learn more, visit The Remote Leadership Institute or order a copy of The Long-Distance Leader: Rules for Remarkable Remote Leadership – our new book written to help leaders of remote teams. Or check out our On Demand training program, Delegate It – Don't Dump It here.