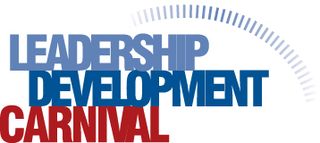 First visit to this carnival?
Read Part Two here.
Read Part Three here.
Read Part Four here.
Read Part Five here.
Welcome to the Leadership Development Carnival!
I'm pleased that we are hosting the Carnival this week. If you are a long time Leadership Development Carnival reader, you will notice something different this time around. Let me explain. Becky Robinson, our Director of Social Marketing, and I were talking about this the other day, since she is managing this post (and so should get all the credit). We agreed that perhaps the Carnival has become a bit of a victim of its own success.
With more bloggers providing content these monthly posts have gotten huge!  What started out as a place to get the best of the best leadership thinking has become so good that it is has become overwhelming.
That's why we are running this Carnival in a series of posts.
The first one is below, others will follow this week starting on Tuesday.  Becky is hard at work, so we don't know how many we will break it into – just know three things….
Our guiding philosophy is to make each post valuable and stand on its own with fabulous content.
We'll post the links to the additional posts at the very top of this post, making it easy to get to the rest.
We're glad you are here!
Enjoy.  Now, here's Becky!
On this first day of the leadership development carnival, we're featuring a ten great posts. Our gift to you this season is the opportunity to slow down and savor each group of posts in this carnival. We hope you'll take the time to read and reflect on this great content featured today and come back each day starting Tuesday to enjoy the rest of the posts.
First up, is regular carnival host Dan McCarthy, with his great post "Learn to 'Act' Like a Leader," posted at Great Leadership.
Don't miss "Manage the Mid-Space or Your Vision Will Fail," by Jesse Lyn Stoner at the Seapoint Center blog. The biggest failure in implementing vision successfully is in not effectively managing the airspace between the 3000 ft view from the hot air balloon and the on-the-ground view of day-to-day activity – connecting strategy with daily action. The purpose of this post is to help leaders understand what that "mid-space" view looks like and also gives them 7 tips on things they can do to connect the mid-space.
Trying to make a change but feel people pushing back? Steve Roesler offers some practical tips to help break the logjam in his post "Help People Get Ready for Changes," posted at All Things Workplace.
Last week, three knowledgeable experts weighed in on the art and science of choosing leaders who are likely to succeed. They've all got part of the answer. Read more at Wally Bock's Three Star Leadership Blog and the post "Getting the Right People in Leadership Roles."
In "Overcoming Short-Termism: Understanding Cognitive Biases In Times Of Uncertainty," posted at the What Do You Want from Them Blog, Anna Smith shares an insightful infographic about how to combat short-termism, the lack of long-term value creation in organizations.
"The benefits of successfully leveraging culturally diverse team members are many, including perhaps the most powerful of all: the potential to gain the unique insights of people who hold distinctly different world-views," writes Art Petty, in his post "Leadership Caffeine: The Critical Importance of Cultivating Your Cultural Intelligence."
In another post celebrating the value of cultural diversity, Chery Gegelman shares why "We are Stronger, Wiser, and More Beautiful Together," in her post at the Lead Change Group blog.
Also at the Lead Change Group blog, enjoy this guest post from of  Mike Figliuolo of ThoughtLEADERS LLC.  He reminds us that no one is "just" anything.  Leaders must remember that everyone is important and can make a contribution. Check out his post "One Word Leaders Should Never Use."
If you're a leader, you can either be the crab who leads the other crabs out of the pot or get pulled back in and get cooked.  Here's what leaders can learn from pot full of crabs. Read more from Scott Eblin in his post "What Crabs in a Pot Have to Do with Leadership Presence," posted at The Eblin Group.
A true story teaches the lesson of this post from Kevin Eikenberry, highlighting the simple ways we can influence others. Check out the "Seven Simple Ways to Subtly Influence Others," posted here at Kevin's Leadership and Learning blog.
We'll see you back in this space on Tuesday, Wednesday, and Thursday with more great posts!