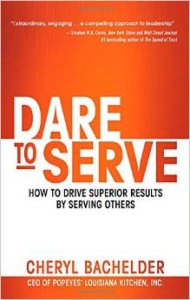 This book is written by Cheryl Bachelder, the CEO of Popeyes Louisiana Kitchen, Inc., so you might think of it as a typical CEO leadership book.
Think again.
Yes, this book talks a bit about Cheryl's back story; which is interesting. And it talks about the significant improvement she and her leadership team have brought to Popeyes, which is quite impressive. But unlike many CEO books, the overriding agenda isn't PR or self-aggrandizement. This is a book written by a humble leader who wants to share what she has learned with the intention of helping others lead more effectively.
Since her focus is on servant leadership, it is appropriate that her approach be humble – but it is clear to this reader that it isn't an "approach" – this is an authentic leader showing what has worked and what hasn't. But even that goal is only half of this very readable book. The second half of the book teaches you what to do if you and your leaders want to lead as servants.
This book provides real world proof of why servant leadership works – and it goes beyond selling you on the idea, but gives tangible real world ways to implement these powerful ideas.
I had the pleasure of reading this book before it was officially published and am pleased to share this recommendation with you on the week the book is released. This is a great book to read for yourself and if you lead other leaders; this would be an outstanding reading club book.
You don't have to be a Popeyes fan or a CEO to enjoy and get value from this book. I recommend it highly.
Two Final Notes
1. As I write this, the book is out of stock on Amazon.com – which is a good sign that I am not alone in thinking this is an excellent book.
2. If you are reading this before Monday, March 23, I encourage you to join a live webinar where Cheryl will be interviewed about the ideas in the book. Joining this live event at noon ET will be a great way to spend an hour learning with a smart, humble and very effective servant leader. Learn more and register here.