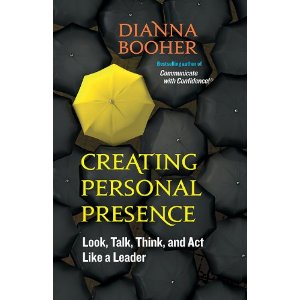 This week's Resource Recommendation is Creating Personal Presence: Look, Talk, Think, and Act Like a Leader by Dianna Booher.
You've met people like them. They have a certain something that makes people notice them: a quiet confidence, a charisma, a presence. Dianna Booher shows us all how to create this type of presence in her new book.
The book unfolds in four major sections, as promised by the subtitle:
How you look — including great chapters on passion and body language.
How you talk — including a great section called the highlighter principle to help you highlight the key points of any message.
How you think — including the importance of taking a point of view.
How you act —including a great chapter on engaging enthusiastically.
Hopefully this gives you a taste of the content of the book. But as with most books, content alone doesn't make it truly shine. Dianna is an author of many books and with good reason — she writes in a clear and understandable way. While she references research, the book isn't loaded with research, rather it is littered with stories and examples from her long career (and from other members of her consulting and training company).
This combination makes this book readable, practical, and relevant for anyone who wants to create greater personal presence. If you are early in your career, this book is a must read. Even if you are long and gray, you will glean ideas and insights from this book too. Buy one for yourself, and for someone you mentor. You'll both be glad you did.
Special note:  this book, while not officially released until October 3, is available now, and on October 4th, the author is doing an online launch.  Buy a copy on Amazon to receive bonuses worth more than $2,100.00 from 14 celebrity authors and experts—including my own bonus here.  Since we are giving you a sneak peek, not all of the bonuses may be ready yet, but you can still buy your copy now and check back for more great bonuses later!