In a workshop I was leading last week someone asked, "What is the difference between conversation and feedback?"
I love this question – and I believe the answer is important for us as leaders in our coaching and mentoring role. Acting on the best answer to this question is critical to our ongoing leadership development program.
I gave an answer that met their expectations, but I thought about it further.  Then, I ran across the post it note they had written the question on.  I decided that I have a slightly better answer now than I had in the moment, at the close of the workshop.
Here is, how many people think (or at least behave) of the relationship between conversation and feedback. . . .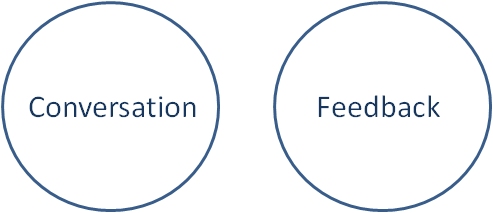 . . . in other words, we often think of feedback as being something we give (or in a worse case deliver) to someone – we, as a coach, have decided what the feedback is – what people have done well or not, and have thought about what feedback to share with the other person.
With a bit more thought, leaders might look at the relationship this way. . .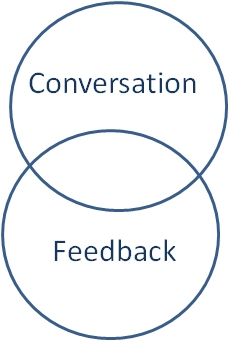 . . . realizing that there might be sometimes be a place for conversation in a feedback session, but still it is the coach or leader's role to deliver feedback and give advice and wise counsel.  In other words, the responsibility for feedback is mostly belongs to the leader.
In reality though, I believe this is the true, and most effective, relationship between feedback and conversation. . .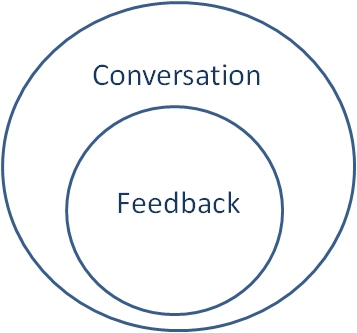 . . . in this picture it is clear that all feedback should be delivered as a conversation – that in order for the other party to best accept and understand any feedback we have to share, it must be a conversation.
Yes, as a leader we may have very specific feedback to share, and yes, the other person also has a perspective on their performance as well.  When we think about any feedback situation as a conversation rather than a delivery, we:
– make the process easier
– take much of the pressure out of the situation
– reduce the emotions that could be a problem
– focus the process on your true intent of helping the other person be more successful
When you add all of these things up, you get a much better result!
The next time you need to give leadership coaching, think about it as a conversation, and notice how much more successful it will be!
To learn more about how to provide more effective feedback, you can participate in the month of April when we will focus the entire month on this skill,  in our Remarkable Leadership Learning System for free!  To register and learn more, go to our special Silver Membership Offer.