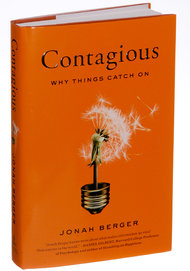 By Jonah Berger
If you are a marketer, you might want to know how to make your YouTube video go viral.
If you are a sales person, you want to know how to get more word of mouth referrals to your products and services.
If you are leader, you hope your ideas are influential.
Jonah Berger has studied and researched these kinds of questions. And some of the answers are in this book.
The question he poses is why do some ideas become contagious, and how can you make that happen more effectively?
He answers, in a style and approach similar to The Tipping Point by Malcolm Gladwell (who the author credits with getting him interested in this work), Made to Stick by the Heath brothers (the author is connected to them too), and more distantly, Influence: The Psychology of Persuasion. If you read any of these books you will see things here that are familiar, and if you have read all three, you will likely find little here that is surprising.
Please hear me clearly, even if you have read all of those books, you will still want to read this one.
Berger builds the book around the common principles or ingredients he has found through his study and research. He labels them as the STEPPS that cause things to be talked about, shared, and imitated. Here they are in brief:
Social Currency – help people look good in sharing the ideas.
Triggers – find ways to remind people about the ideas, as the author states, "Top of mind leads to tip of tongue."
Emotion – provide ways to connect our ideas to emotions.
Public – design products (and ideas) that advertise themselves – because they are in part, observable.
Practical Value – make things seem like a really good deal – on a variety of levels.
Stories – find ways to wrap our ideas inside of stories.
This book is smart, entertaining and educational. Like the books mentioned above, I believe it will be one of the top selling and most talked about books of the year. Those alone are reasons enough to read it. Beyond that, the ideas that you will get about how to apply these principles in your life and work make this a must read book.