By John Neffinger and Matthew Kohut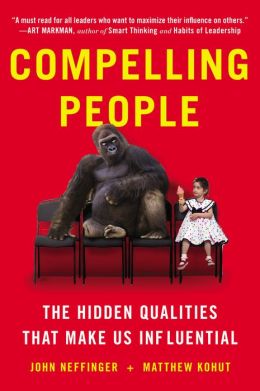 Who doesn't want to be more influential?
More influential as a friend, as a parent, as a spouse (or potential spouse)?
Or more to the point of this blog, as a professional and a leader?
If you really don't want to be more influential, feel free to click away now.
This book lays out its basic premise early on – it isn't the first time I read the premise or the research behind it – if you haven't, the path to greater influence is through a balance of strength (the root of respect) and warmth (the root of affection). The authors do a great job of laying out this idea – and that chapter alone is worth reading the book if this balance is a new idea to you.
Beyond that they talk about who we are – our natural genetic makeup and how we can understand how others may perceive us as a result. There may not be as much new here, but all is backed up with research and is well connected to their overall premise.
In the third section the authors give us real help. They take the reader through a treasure trove of examples and ideas to project strength and warmth (and the paradoxes therein) – everything from gestures to voice to word choice and much more.
Again in this section I found some things I already knew, but many nuggets worth considering, and they use examples well to illustrate their points. Overall, I found this book very practical and useful, and well worth reading.
This book was one I listed in a post a few weeks ago as being on my reading list. I hope I have influenced you to put it on yours. It is well worth the read.