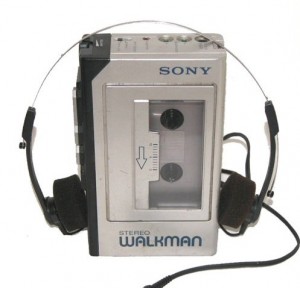 This week in 1979 the Sony Walkman was introduced.  Sony's fortunes boomed.  It changed the way we listen to music. And all these years later there are lessons we can learn from this ground breaking product.
No this isn't a marketing post, or a cultural post, this is all about communication – and what we are (too often) missing.
The Walkman provided the first mobile way to have a truly personal listening experience.  The combination of a small package, headphones and lightweight cassette tapes allowed people to take their music (and audio) everywhere, and tune out the world around them.
And the recording industry took notice.  A wider variety of music became available, and producers of educational materials created more and more audio learning materials (including lectures, "books on tape" and more) to feed the hunger of the Walkman.
With such a powerful and game changing tool, one would think that all of these factors and innovations would lead to better communication, but 34 years later, one could argue that less true communication is happening than ever.  While it isn't the "fault" of Sony and its Walkman, there are factors that point to tools like it contributing to the demise of communication effectiveness.
People can't listen if they are somewhere else.  I am reminded of this often as I drive with my children (14 and 21) in the back seat of the car.  I can talk to them.  They are physically there, but communication can't happen because the ear buds/headphones in their ears mean they are really somewhere else.  This of course isn't a phenomenon of just my kids – but of our culture.  Just because people are in the room, doesn't mean they are listening; yet often we assume they are.  "I don't understand, I told them in the meeting," is the siren song for passing the communication responsibility off to the listener – and we know it doesn't work that way.
People are more distracted – and less able to focus than ever.  Because of the awesome tools at our disposal, we have more things to be distracted by than ever, but this point goes far beyond that.  Because we are so used to putting things in our ears to listen to – we have more trouble than ever focusing when our ears are open.  The headphones take us away with the music or message, but without them we are subjected to the cacophony around us, and we are less skilled at focusing on one message at a time.
Just because it is recorded, doesn't mean people will listen (or understand).  Speakers, trainers and educational providers thought the Walkman was the ticket to increased learning.  Then they thought the same with the CD, and the MP3 player.  Just because you create the message, doesn't mean people will hear the message – even if they buy it, and even if they hit the play button.
The audio recording isn't the full communication anyway. The Walkman gave easy access to audio communication anywhere, yet audio alone limits our ability to communicate. We all know that it is easier to communicate face to face than over the phone – the spoken word alone doesn't always communicate our message.  The Walkman seduced us to thinking that a recording would do it all for us – and the remnants of that belief are everywhere.
One way communication is limited.  This is an obvious statement, and the Walkman wasn't designed to create two way conversations, yet because it so powerfully and easily impacted one-way communication, we sometimes forgot this (very) important point.  Which leads to the next point . . .
Asynchronous communication is more limited than we realize.  We live in a world with so many tools for communication – many of them that separate the time and space between a message being sent and a message being received.  While these tools are very helpful to us in many ways, we often live with the mirage that communication has occurred.  Don't believe me? How often have you said, or heard things like:  "I sent them the email" or "Everyone just needs to watch the video we produced" or "I texted them"? Asynchronous, all.
….
While this post may seem cynical so far, all of these facts can be turned around individually if not culturally.  If you want to be a more effective communicator, read on . . .
It all starts with something we all know, but too often, as proven by our actions, we forget.
True communication isn't (just) about sending a message – however well prepared and carefully crafted. True communication doesn't happen in a vacuum – it requires engagement in some way by the receiver. True communication is message sent, and message received. 
The Walkman gave us a tool for sending and receiving, but we gave it and its electronic cousins too much credit and got lazy in our communication.
The best thing you can do as a communicator is focus on getting your message received.  Check for understanding more often.  Ask more questions.  Focus on how you can engage the listener at a deeper level.  Make the communication relevant and meaningful to them.  Doing those things will make all the difference.
Put on your iPod (the Walkman's great granddaughter), listen to some soft music and think about how you can become a more effective communicator.  Then take out your ear buds and practice your "message received" skills – because message sent isn't enough.