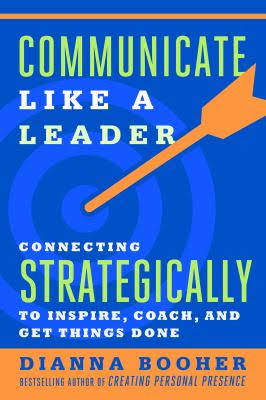 by Dianna Booher
If you want to be more successful in life and ask people for advice, two pieces of advice will show up early and often:
Become a great communicator.
Become strategic or intentional.
This is amazingly sound advice. And when you are in a leadership role, the advice is doubly true. It is a fact: the best leaders are both strategic and good communicators. So, it follows that if you want to improve your skills, these are two areas to focus on.
Enter Dianna Booher.
In her long career, Dianna Booher has written extensively about communication in all forms, and trained, coached and worked with hundreds of leaders too. In her new book, she helps her readers work on these two important skills – strategy and communication.
This well written and practical book is laid out in sections which prove my point:
Strategic Leadership
Strategic Conversations
Strategic Negotiations
Strategic Speaking
Strategic Writing
Strategic Meetings
Each section is composed of 3-15 short chapters (the Strategic Leadership Section has the most chapters) which provide practical advice for leaders at all levels.
Since strategy and communication are so important to us all as leaders, whether new ideas or powerful reminders (likely both), this book belongs on your reading list – and since it is brand new – when you read it, you will be among the first to benefit from the wisdom it provides.
Special Note: I recently had Dianna as a guest on The Remarkable Leadership Podcast, and you can listen to that episode here. It will either reinforce your desire to read this book, or confirm the wisdom of your purchase. You can search for it on iTunes, or listen from here.