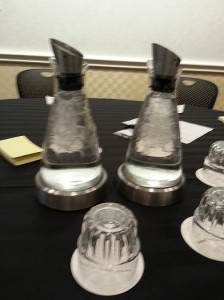 This picture won't mean much to you, but to the small group I spent two days with in Houston this week, it means a lot.  On the morning of the first day of our intimate training session on Coaching, the group had consumed our entire carafe of water pretty early.  When the staff came in to check on us, I asked for two carafes per table, because we were obviously thirsty.
The fact that he listened and brought in two full carafes right away is great, but not that noteworthy.
The fact that I came in the next day and saw two carafes on each table is, I believe, quite noteworthy.
I don't know if it is the same person who served us two on day two or not.  If it was, it was great that he:
Remembered the feedback.
Noted that the same group would be in the room the next day.
Took action to put two carafes on the table (which clearly isn't the normal expectation).
If it wasn't him, it is even more impressive. That would mean that he:
Remembered the feedback.
Noted that the same group would be in the room the next day.
Communicated the need/expectation to someone else who then;
Took the needed action, outside of the normal process.
All of this reminds me that coaching and feedback doesn't have to be a formal meeting.
Yes, there are many times when coaching needs to be a formal sit down, with clear expectations and planning.
But effective coaching can also be a clear, quick conversation that is heard, understood, and acted upon.
If you are a leader and you don't think you have time for coaching, you are missing the point. The point is the two carafes at the Downtown Crowne Plaza in Houston, TX.
When you see people doing something great, let them know. When there is opportunity for adjustment, let them know.
Yes, there is a time and place for formal coaching, and yet, the informal, in-the-moment conversations are coaching opportunities too.
Are you taking them?
If you would like to learn how to be a more effective and confident coach in all situations, you could join me in a future Remarkable Coaching Workshop . It would be an honor to have you join me.