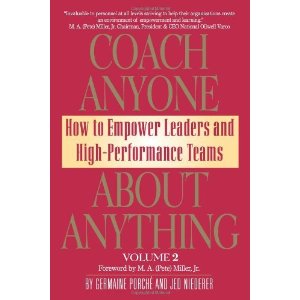 This week's Resource Recommendation is Coach Anyone About Anything: How to Empower Leaders and High Performance Teams Volume 2 by Germaine Porche and Jed Niederer.
This new book has a bold and broad title – and it is a mission the book attacks with considerable passion.  After reading the book I have three basic thoughts.
The book didn't deliver exactly what I expected from the title.
The book is still valuable, even if it isn't exactly what I expected.
The authors care about their work and are likely extremely good coaches and consultants.
By the title I expected a book largely about one-on-one coaching, taking me through the intricacies of how to structure the conversations, create accountability and more.  By that measure, I believe the book falls short.
The book however has a broader application – sharing in many sections about coaching in a broader way – providing tools for a full team or organization to move forward more rapidly on projects and the like.
The book's greatest strength is in the sharing of tools with great examples.  Some of the tools are not new, but the descriptions and applications provided are outstanding.  More of the tools however, are new to me, created by the authors for use with their clients.  This is where the book is most valuable.  There are tools here I will use or tweak for use with my team and with our clients.
The authors do a nice job of writing in a conversational style – I felt less like I was reading a book, and more like I was sitting in a workshop – the examples, stories and illustrations brought the concepts to life for me.
This is a useful book, even if it isn't quite what I was hoping it would be, and it has earned a spot on my shelf of coaching and leadership books.  I will refer to it and use it often.