One of my favorite movies is The Sound of Music, and one of the best songs in the movie (in my opinion) is "Climb Every Mountain".  Today's quotation isn't from or about the movie, but the first time I read it, I started humming the song in my head (if you don't know the song, here is a link to the lyrics and the film version of the song.)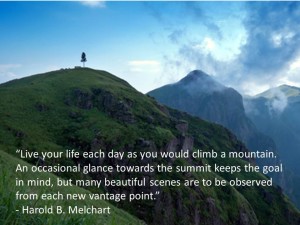 I seldom use a quotation from someone I can't track down (if you know who the author is let me know), but I liked this so much I decided that didn't matter.  I'll tell you more about why I picked this quotation this week below, but for now, lets get on with it. . .
Questions to Ponder
– Can I see my goals clearly?
– Am I looking at my goals regularly?
– Am I enjoying my place on my path?
Action Steps
1. Stop today and look around at what you can be grateful for.
2. Use that gratitude to push you towards your final goal.
My Thoughts
Two important points draw me to this quotation – the importance of the clarity of the goal, and the value of noticing where you are along your journey towards the goal.   Neither of these ideas are new  – we have all heard them both before – and yet in my experience we all need to be reminded of them.
The value of the ideas when put together makes them more powerful than they are individually.  I'm guessing that as some of you read this you are hearing more about one half of the advice or the other. Some people need to be reminded to set goals or to keep them more clearly in sight.  Others are very goal focused but aren't taking the time to enjoy the journey, reflect on what they are experiencing along the way.
My hope is that in reading this today you take it as wise advice and a challenge to refocus on your goals and enjoy the view on each step towards them.