While facilitating a Bud to Boss Workshop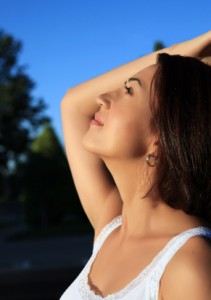 this week, one of the participants (thanks, Margaret) used the phrase "chin up" to describe the leader's need to look further out and keep a broader perspective of a situation.  The phrase got repeated within the class a few times, and now I can't get it out of my head.
Which is a clue that perhaps I should write about it.
As a leader, we must have the ability to see things from different and higher perspectives. You must look to the future, connect current work to the long-term strategy, and you must be able to survey the environment in which you and your team are operating.
And you can't do any of that looking at your feet.  The metaphors for this concept are many – "we are in the weeds", "we can't see the forest for the trees", "we need a birds-eye view".  While all of those sayings are accurate, I like the idea of "chin up".
While it is likely easy to see why we should get or keep our chin up, figuring out how might be a challenge, so here are six ways to practice Chin Up Leadership.
Review goals and strategies daily.  By keeping the most important things top of mind, it will help you keep your course towards the important things.
Plan.  While we are busy and most of us feel we must dive into the work, take/make the time for planning – for  yourself and with your team.  This will help you keep the right perspective.
Read.  Read about your industry and beyond.  Be thinking about thinking outside the walls of your business and ask yourself how what you are seeing will impact (and provide opportunities for) your business and team.
Talk to others.  Go beyond your normal circle of colleagues, and change the topics from what is happening today to a broader, bigger picture.
Ask why.  Look at all your work with a "fresh sheet of paper" perspective.  Consider always what are the important things, given what you know now, as opposed to staying with the routine.  Encourage your team to do the same thing.
Reflect.  Take time regularly to think about your work and put it into perspective. When we keep moving forward, it is easy for our gaze to lower and our perspective to shorten.
You can't drive a car safely or effectively by looking just past the hood ornament, and you can't lead by looking at your feet.  The best leaders are continually raising their sights and expanding their perspective.  That's Chin Up Leadership.
Get your chin up and get started.