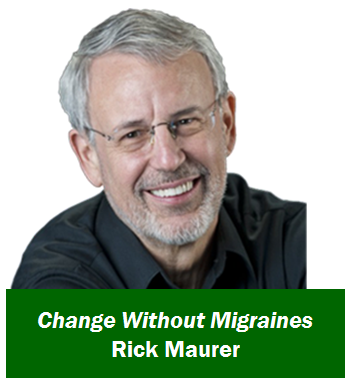 If you are reading this, you've been involved in some change that caused you headaches (or know that you might be in the future)! Change is hard, and often even harder when we are talking about an organizational change . . . that you are responsible for leading.
Migraines, indeed.
While there are no magic bullets to make organizational change easy, simple or fast, there are tools that can make change efforts less stressful and more successful.
Enter Rick Maurer.
Rick is known around the world as an expert in change management; he has consulted with top companies and written several books on the topic. His insights have been shared in television outlets and prestigious print and online media outlets as well. I have learned much from his writing over the years, and I have found his tools and advice to be insightful and perhaps more importantly, practical.
Rick knows his stuff.
So we have asked Rick to share some of the key things he has learned about change management in working with leaders and organizations around the globe. We've not only facilitated him being available, but he is leading a teleseminar titled Change Without Migraines: Management strategies to build support for and eliminate resistance to change. (I dare you to not be intrigued by that title!)
This session takes place on March 12 from 1:30-2:30 ET. You will want to block your calendar for this hour as Rick shares:
The philosophy of change management
What to do when you're stuck in the status quo; when no one sees the need for change
Learn why people resist
How to build employee engagement to build support for change
Powerful ways to sustain change
How to turn apathy and resistance — the two strongest forces against change — into support
The Energy Bar: How to move the energy of your employees from resistance to support, and learn the steps in between.
You will want to join live because you will have a chance to ask your specific questions of Rick – it's like getting personal consultation and coaching from a world expert!
If your calendar doesn't allow your live participation, you can purchase a recording to listen to at your convenience (or you can get both the live call and the recording at a discount).