By Kathryn D. Cramer and Hank Wasiak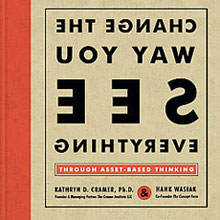 I don't go into bookstores as often as I used to. But Sunday I did, and I'm glad I did. I looked at books, and kept thinking about how many were at home and at my office on the reading list. I looked but didn't buy, until I saw this book.
It is beautiful, like a coffee table book with great graphics and thick paper. It is creative and not quite like anything else I've seen. Here is the basic construct of the book, from page 10:
Just think what could happen if people focused their attention on:
Opportunities rather than problems
Strengths more than weaknesses
What can be done instead of what can't
Perhaps not earthshattering, but worth thinking about.
While this book may not break new ground, it shares important ideas in new ways and the complete package is unique, creative and fresh. It also works hard to help you apply the lessons it shares.
If you need loads of content, this may not be the book. After all you can likely read it on your lunch hour. But if you want something new for you or as a gift for others, this may be it.
The book has been out since 2006, and I just discovered it.
Man, I love bookstores.