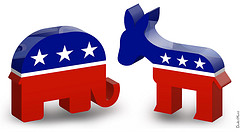 In a few days we will learn who will win the election, but I believe we can learn much more.
Think about it this way, you are getting a seat to watch two people talk about leadership, and perhaps depending on your perspective, exhibit leadership.  You are also getting the chance to see communication strategies at work and see the reaction of others to those strategies.
No, none of us will likely run for an office with this sort of visibility, so the lessons aren't direct, like, "When I run for President, I will make sure I do this…"; but the lessons, when you stop and look for them, are extremely powerful for all of us as everyday leaders in our organizations.
That's what I want to help you do – learn from the process.  Which is why I am leading a teleseminar titled Presidential-sized Leadership Lessons: Real-world leadership lessons in the polls, press and process of a Presidential Election.  This 60 minute teleseminar is non-partisan and non-political, making it safe to listen to with your colleagues without it becoming a debate.  (In fact for one price you can have as many as can gather around the speakerphone participate).
This call will take place the day before the election – November 5 – at 3:30 pm ET.
Since I am still learning by observation, I can't tell you exactly what we will talk about, but I can tell you we will explore a number of key areas of concern to all leaders including change, communication, creativity, organizational development, public speaking and more.
And we will talk about what we can learn from what the candidates are doing – and what not to do!
It will be fun, informative and extremely valuable.  You can learn much more and register here.
I hope you will join me!
photo credit: DonkeyHotey via photopin cc