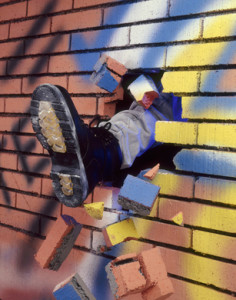 Last week, I did my best Jack Nicholson/ Colonel Jessup imitation to get you thinking about why you don't have as much innovation in your team or organization as you wish.  (You can read it here  – but the short answer is the challenge starts with you.) At the end of that article, I promised to give you some ways to support innovation in your organization this week.
So let's get to it.
The Barriers
One of the best ways you can support innovation on your team is to remove the barriers (other than yourself, that was last week's point) that keep people from innovating. Here is a short list of the barriers that you need to be aware of, before you can remove them.
The facade of complacency. If we think things are "fine" or we are the "industry leader," why do we need to innovate? Complacency removes the drive or reason to innovate at all.
The fear of no.  Have you ever offered an idea to anyone and had them tell you the idea is a bad one or won't work? If you have ever shared an idea with anyone, you've had this unpleasant experience. It might have been a gentle no, or a mockingly verbal slap in the face. Either way, once you have experienced it, why would you want to expose yourself to more of that?
The fear of failure or mistakes.  What if we try it and it doesn't work? That fear of the unknown is a huge barrier – especially when offering ideas to the boss (you). Generally, people don't want to make mistakes or share potential failure with their supervisor. This barrier is real, and probably the one you thought of before you started reading this list.
The fear of success.  People aren't just afraid of failure – they are often afraid of success too. While this sounds silly, it is very real. When people innovate with a new idea, they don't know how it might turn out. It is possible it will be so successful that the current situation will change drastically. When people don't know what will happen – even if it is good – they often hesitate (or worse).  To explore this one further, I've written more about it here .
The fear of resistance.  But what if people don't like my idea? What if there is resistance? I don't have data to back up the idea, so people will just eat my idea alive . . .  Resistance is alive and well, and the fear of it is a major barrier to innovation.
The fear of extra work.  You've seen and experienced this yourself. Perhaps you have even inflicted it on others. The person who has the good idea is the person who is asked to implement it. If you have a good idea but are already busy, this fear keeps you from voicing the idea because the pain of the work and responsibility outweighs the pleasure and benefit of the idea itself.
Being a Barrier Remover
There are specific barrier removal strategies for each of the items above, and each warrants a complete article. But to build your skills as a innovation barrier remover, here are a couple of strategies to get you started.
 Recognize that all the barriers exist.  Perhaps there are some of these that seem foreign to you personally. That fact doesn't make them less real for others. Think about individuals and your team, and see if you can identify where their barriers might be.
Inquire and observe.  Once you are aware of the barriers, spend time asking questions and noticing conversations to determine which barriers are in the way of your team.
Confirm the barrier.  Ask people what they think. Have a conversation about what is actually getting in the way of ideas and innovation in your work.
Remove the barrier.  Once you know it exists, do what you can to reduce it through your actions and conversations with others. Watch your reactions to ideas, and acknowledge and reward people for sharing those ideas. Once you have taken the first three steps, you are well on your way to opening the floodgates to new ideas, innovation, and greater results.
The barriers to innovation are real – or we would already have more of it.  Take the steps outlined in this post and you will be on your way to busting through the wall and opening up your team to more innovation and greater results.