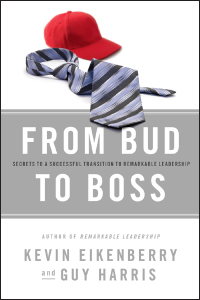 A year ago, we released From Bud to Boss: Secrets to a Successful Transition to Remarkable Leadership. In the last year, thousands of copies have been sold. Individuals have purchased copies because they wanted to succeed in their transition to a new leadership role or continue their leadership growth. Copies have been purchased by leaders for other leaders moving through this transition, to help with their development. In conjunction with the book's release, we created an online community to provide resources and tools to help anyone in the transition to leadership.
For over a year prior to the book's release, we were offering 2 day workshops on the content of the book in both public workshops and onsite for organizations. (You can learn more about these options, sign up to learn when the workshop is coming to your area or get in touch with us to talk further here.)
While we have been excited to offer these resources, we knew it left a hole in the market.
Clients were asking for a version of the workshop that they could deliver in-house themselves. Most of those organizations seeking our help had competent and credible trainers and a large or ongoing need to equip new leaders. But we couldn't help them.
Until now.
We are putting the final touches on the Bud to Boss Licensed Training, designed by Guy Harris and me. We literally "wrote the book" and have delivered the public workshop to hundreds of people over the last two years. We took all that we have learned and created this licensed version of the training. It is interactive, practical, and fun.
Creating this type of training product requires more than just content knowledge. In order for the training to be successful inside of your organization, your trainers must be prepared and confident. After all, even the best training materials won't compensate for poorly delivered training.
That's why, for this licensed training we have built a comprehensive train the trainer certification — where your trainers will spend five days learning the content and training processes and be adequately prepared to support the development of the leaders inside your organization.
After your trainers are certified, we license the content to you, providing DVD's to support trainers' delivery and workbooks that all the learners will use both during and after the workshop.
We've designed the two days into modules, so that if your organization wants to deliver the workshop is sections rather than in two full days, you will have a flexible way to create great leaders in your organization.
If you would like to learn more about this program and the steps to bringing it to your organization, contact us here.
Tags: training, supervisor training, new supervisor training