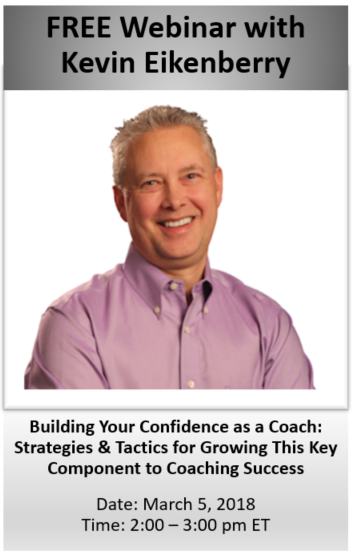 Think about a task in life – what role does confidence play in your success?
You don't need research to tell you the answer – when your confidence is higher, you will generally be less nervous and more effective.
This applies to simple tasks and to more complex ones, as well – it is a part of what it means to be a human being.
Confidence matters a lot in our performance.
One of the most important and complex tasks we perform as a leader is to coach others. Whether we are coaching people up to a minimum standard, or coaching people to even higher performance, if we are more confident, we will be more effective in helping them grow.
And no, I'm not talking about over-confidence or pompous arrogance. I'm talking about a "I'm prepared and I'm clear on what I'm doing, I've got this" kind of confidence.
My point is that having a coaching model and some skills isn't even if you want to coach at the highest levels – the missing ingredient might well be confidence.
I've put together a webinar and rather than charging for it like we usually do, I'm offering it with my compliments, because the ideas I am going to share are not talked about enough and are too important to keep to myself.
In just 60 minutes, you will be able to:
Recognize the value of confidence to leadership success
Recognize the mindset that drives coaching confidence
Use three tactics to grow your confidence as a coach
Overcome your toughest coaching quandaries and challenges
Coaching with confidence, not arrogance
How to build confidence in others
We will be busy – but as you can see, these ideas will help you coach others more successfully, and I look forward to sharing all of it with you. Join me at 2 pm ET on Monday, March 5 – you can't beat the price, and the insights you will gain will benefit you and all those you coach for the rest of your career.