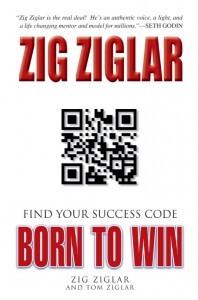 This week's Resource Recommendation is Born to Win by Zig Ziglar and Tom Ziglar.
Let me start by saying I am a 100% Zig Ziglar fan, so by definition, this review will be biased.
I've read much of Zig's writing throughout my professional life, listened to him speak, both live and on tapes (yes, cassette tapes) and have both benefited and been entertained in the process.
Born to Win is, as Zig, who is 85, says in the opening to the book, perhaps his last book. It is a book that talks about the steps required to move towards your best possible future. In it, he (assisted wonderfully by his son Tom) proves that he believes one of his most famous lines, "man was designed for accomplishment, engineered for success, and endowed with the seeds of greatness."
This book helps all who read it move towards your life wins through three major steps:
• Planning to Win
• Preparing to Win
• Expecting to Win
The information here is easy-to-read, principle based, and time proven. What you will read on the pages of this book are pure Ziglar gold.
I've already said that I am a big Zig fan – because of that not everything in this book is new to me. In fact, it reminds me of what in music is called a Greatest Hits album. Many musical acts have over the years compiled "Greatest Hits" albums – entire albums of songs that their fans already know. Sometimes they include one or two new songs, in hopes of adding to their list of hits. That is how I see this book.
As I read Zig's words I can hear his voice talking to me. Some of the stories are familiar, yet are worth hearing and again and being reminded of.
If you've never read a book by Zig Ziglar, this is a great place to start. If you are are a fan like me, you'll find yourself wanting to go back to his previous works again after reading it. This is a book that truly does help you plan to win, prepare to win, and encourages you to expect to win.
If you need even more reasons to buy the book (though that shouldn't be necessary) there are many bonuses available from other speakers, authors and consultants, who like me, are fans of Zig. Buy your copy (or copies for your team at a nice discount), be sold on the fact that you were Born to Win, and get tremendous bonus material to help you on your path to winning.