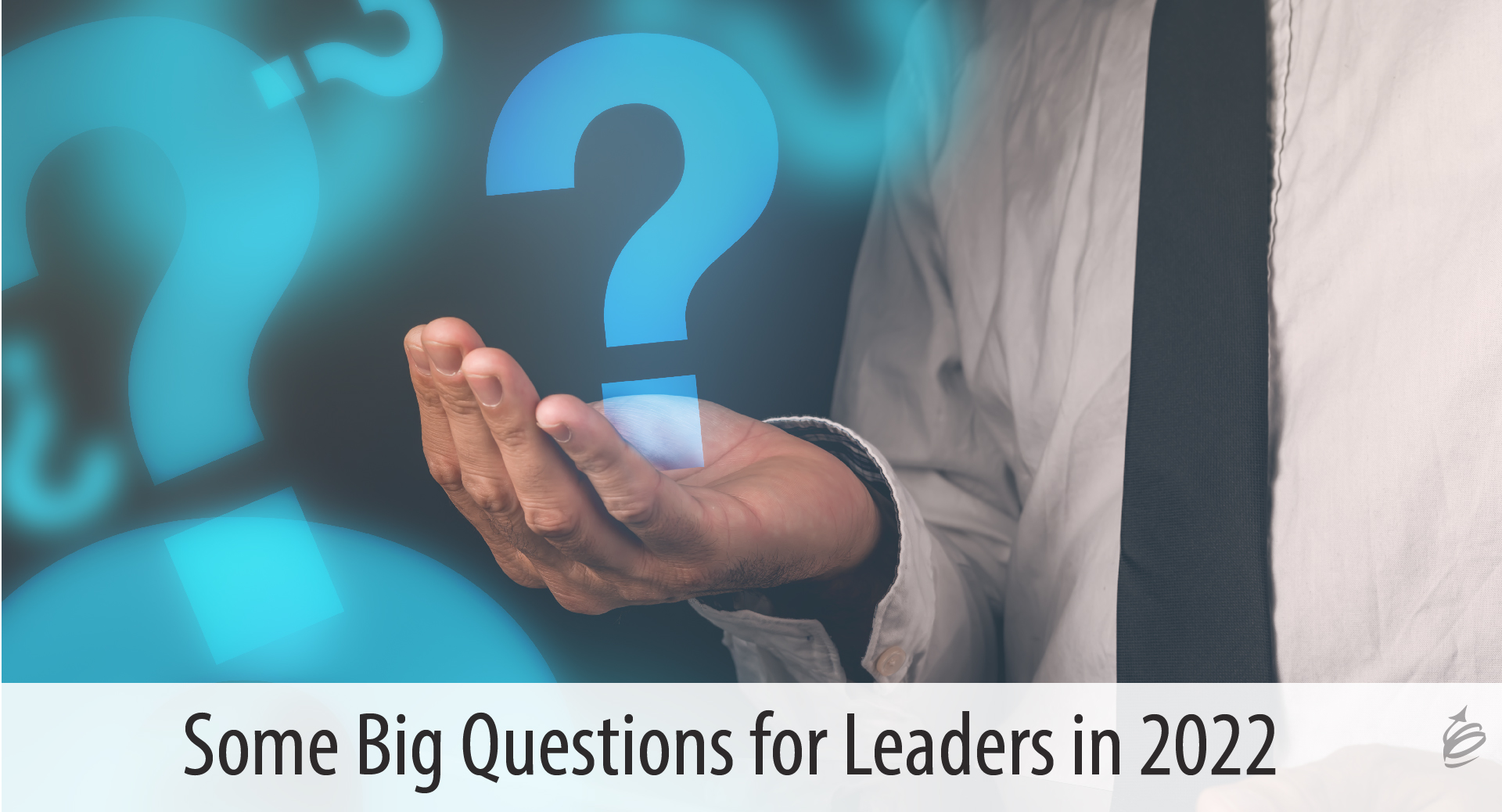 The best leaders are curious about the world, the future, their businesses, and their people. Another way to say that is that great leaders are question askers. Last week, I posted my leadership imperatives for 2022. Today, I want to augment that by sharing the most important – the big questions for leaders at the start of 2022. Here are those questions – with my thoughts as to why they are so important now.
Where do I need to focus my development?
Perhaps you have been a bit lax in your own development in the past year or so. Afterall, there has been plenty else to be thinking about. If that has been the case, it is time to be more diligent about your development. Even if you have remained focused in your own learning and development, now is the perfect time to redefine your focus. What do you most need to learn and where do you most need to grow? Once you decide, you can begin planning for that development.
How will I take care of myself?
Your self-care is critical to your success. Whether it is work-life balance, better nutrition, exercise, or stress-relieving activities, you can't give your best to your team and work if you aren't at your best. Your mental (and physical) health is more important than ever to your ability to lead effectively. Please take this question and your answers seriously.
How will I maintain my focus?
The swirling tumult of a pandemic world. The struggles with talent attraction and retention. The constant changes of when and where people will and can work. These are just a few of the issues and situations that will vie for and grab your attention. This question helps you prepare for this mental onslaught. Know your biggest priorities and build a plan now for keeping those in focus even when others might be losing their way.
How will I balance the needs of the team and the needs of the organization?
This might be the biggest question leaders will collectively face this year. As employees see a new world of work, they are asking new questions and expecting more from their work (and their leaders). Understanding these needs is important and must be balanced with the needs and vision of the organization. When we see this as a balance and not as a competition (one with winners and losers), we will create better solutions that will get great results and reinforce the value of the team at the same time.
How will I support the team and organization as we navigate change and uncertainty?
While we don't know what the future holds, we do know that there will be plenty of change. How will you support that team through it all? Your answer might include learning and development, greater empathy, more collaboration or twenty other things. Take this question seriously now and you your team will thank you all year long.
How will I be the best role model possible?
By your position, you are already a role model. People are watching and listening and paying attention. This question begs us to be proactive about modeling the behaviors, attitudes, thinking, and decision-making that we want them to follow. I have placed this question last on this list, because your answers to all the previous questions will inform your answer to this one. If you are developing, staying focused, and taking care of yourself, you are setting a model for them in those areas. If you are supporting them and the needs of the organization, they will more likely see both perspectives. And if you are supporting them through the challenges, they will be more likely do the same for their teammates.
There are my six big questions for leaders at the start of 2022. Take time to think about these questions and formulate your answers. More importantly, commit to the actions your answers suggest. When you do, I promise you will be better equipped for the coming year, more confident, and ultimately lead more effectively.
Note: A version of this article first appeared in my LinkedIn Newsletter, Remarkable Results. You can subscribe and receive each weekly article here.
…
If you want to be a more effective and intentional leader, you need regular input and intentional learning. But you might not have time or ability to attend a traditional workshop. What if you could get targeted skill development from a trusted source, that you could complete at your own pace and based on your interest/need? That is exactly why we created Remarkable Master Classes. Learn more about the approach, format, and the list of currently available skills here.