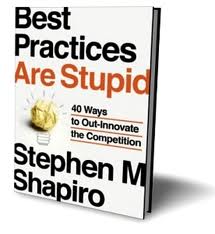 This week's Resource Recommendation is Best Practices Are Stupid – 40 Ways to Out-Innovate the Competition by Stephen M. Shapiro.
This is a book about creativity and innovation. And this is a book about organizational change. It is mostly about examining sacred cows (i.e. best practices) and recognizing that perhaps (in some cases) the best practice made sense in the past or on the surface.
But on the way to best practice status, people forgot or didn't notice the unintended consequences.
Stephen isn't afraid of really attacking sacred cows like the chapters titles "Asking for Ideas is a Bad Idea" or "What Did Edison Get Wrong about Innovation?" show.  What is more conventional that asking for ideas or extolling Edison as an innovator?
In order to make this type of a "conventional wisdom doesn't work" book work, the author must be pretty black and white— that the best practices ARE stupid, and that the remedies he suggests are significant improvements.
While I'm not sure the world is quite that black and white, there is a lot of fuel for thought, discussion and, ultimately, behavioral change in this book.  Perhaps my best indication of how much I value and enjoy of book of this type is how much I engage with the content. Based on the amount of ink on the pages and margins of my copy, there are great ideas here.
Overall I like this book and recommend it. It is easy to read, is very thought provoking and will help you innovate more effectively within your team or organization.