This is the first of a series of guest posts from the ten bloggers nominated for Best Leadership Blog of 2009 (place your vote now).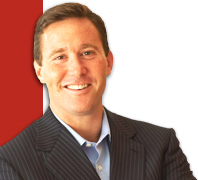 Jon Gordon is a speaker, consultant, and author. His book, The Energy Bus: 10 Rules to Fuel Your Life, Work and Team with Positive Energy, is an international best seller and takes you on a journey as you learn 10 secrets that will help you in overcoming difficulties in work and life and achieve true success. Jon's insights are powerful in helping you bring out the best in yourself and your team. Jon wrote this blog post about leadership techniques that, if practiced correctly, will ensure you and your team great success:
5 Positive Leadership Strategies

By Jon Gordon (June 15, 2009)

These are uncertain times. Employees are questioning how their industry and job will be impacted by the current economy. They're unsure about what action to take. Unfortunately this uncertainly creates what I call a VOID and my theory is that where there is a VOID negativity will fill it.
When there is a void of clear and positive communication people start to assume the worst and act accordingly. At the root, it's all about fear. When we are uncertain, fear and negativity creep in and dominate our thoughts, behavior and actions. This leads to a lack of trust, decreased productivity, poor focus, uninspired teamwork and subpar performance. Instead of taking positive actions to thrive our teams go into survival mode and just try to survive.
That's why I believe now, more than ever, is a time for positive leadership. Now is a time to stop obsessing about the recession, get back to basics, create a plan of action, and inspire, encourage and empower your teams. Why? Having worked with countless leaders over the years in businesses, schools and professional sports I've realized that great leadership is first and foremost a transfer of belief. So often the difference between success and failure is belief. Positive leaders share their belief, optimism, vision, purpose and plan with their organization and in the process they inspire and empower their teams to believe, act and execute. Positive beliefs lead to powerful plans and actions and this leads to significant results.
However, positive leadership requires more than inspirational speeches. It is a process and there are several steps you need to take to get your team on the busand moving in the right direction.
1. Make Your Culture a Priority – Negativity and fear are knocking your people off balance. It's time to regroup, refocus, and unite them to create a winning culture and team environment. Remember, you win in the office first. Then you win in the marketplace. With a winning team you create strength on the inside that can withstand the negativity, naysayers and adversity on the outside.
I saw this happen first hand with Atlanta Falcons last season. In the face of the Michael Vick scandal, Coach Mike Smith took charge and built a winning team by making the team culture, attitude and synergy his priority. I was brought in to help with this process and we saw and immediate and powerful impact.


Read the rest of the post here.
In the rest of the post Jon gives us four more suggested ways use our effective leadership skills in more positive ways.
His message is clear whether you are in corporate leadership or are a brand new first line supervisor – when we choose to lead in positive ways good things will happen for us – and our organizations.
Vote for Jon or any of the other finalists here.