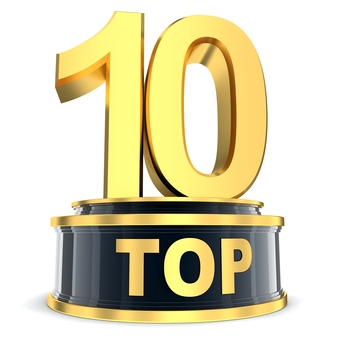 All sorts of lists are concocted this time of year. They are designed to get people to reflect, to provide perspective and help people remember. It is also well know that people love lists. For all of those reasons, I write this post today!
What follows are the ten most popular (as determined by number of page views) blog posts I wrote this year. There are many factors that play into those views, including who and how many people shared it with others. If you like this post, I hope you will choose to do that too!
Here we go (in my best Casey Kasem voice). We're counting them down from number ten . . .
10. Your Success Depends on This Skill: Not a bad place to start the countdown with a post about your success. No one will be more interested in that than you, and here is a good place to start.
9. Gallup is Wrong, and You Should be Happy: I don't usually write controversial titles like this, even though they often get people to read. The post is about a very important point well worth reading. And for the record, I think Gallup does really good work!
8. 10 Questions to Make You a Better Listener: There's another post about questions later in the countdown, but this is a good place to start. Besides, everyone would like to be a better listener, right?
7. Remarkable TV: There's More Than One Way to Coach: This post was nominated as one of the top 10 Sales and Marketing Videos of the year. Trust me, it isn't just about Sales and Marketing – which is a probably why it didn't win the award, but is a very good reason for you to watch it!
6. Remarkable TV: Can You Coach Attitude?: This is the highest ranking of my video posts this year. You will see more on a related topic closer to the top of the rankings.
5. 9 Reasons Organizations Don't Train Their Leaders: Written just a few weeks ago, this is the most important post I wrote this year for organizations. If you are in a position with responsibility for other leaders, I urge you to read this. If you know someone else who is, forward it to them.
4. Ten Questions Leaders Should Ask Every Day: This is personally one of my favorite posts of the year. Maybe that doesn't matter to you, but you might like to know that the title lies – there aren't 10 questions, there are 20.
3. How to Keep the Negative Attitudes of Others From Impacting You: We all deal with negativity at work. This post gives you some ways to keep the attitude of others from impacting you negatively.
2. Three Types of Forgiveness and Why They Matter to Us as Leaders: Perhaps forgiveness isn't at the top of your list of things to think about as a leader, but this post may give you reasons to change your mind. And there is a link to a very cool Forgiveness Scale too!
1. What The Best Leaders Will Learn From Peyton Manning (But Most will Ignore): I admit I wrote it right before the Super Bowl about a famous person who was going to play in the game, but the lessons stand on their own at any time of the year.
There you have it – the top ten posts I wrote this year, as rated by page views.
There were 13 posts written prior to 2014 that had more page views this year than #10 on this list did, but these posts struck a chord with readers and I am glad they did. I'll keep writing in 2015, and I hope you will keep reading!