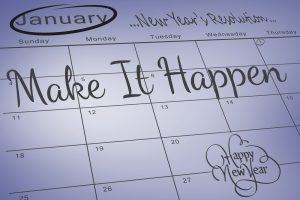 You have probably heard about the statistics about people setting New Year's Resolutions.  Most of them talk about how few people keep their resolutions.  There are many reasons why that is the case, and that that shouldn't necessarily dissuade you from setting them.
While I am not a big fan of the concept of a "resolution" I am a big fan of "goals" (which are more about destination and results).  Given all of this failure and my dislike for the word, why do I still suggest you set them?
1.  Just because some people don't keep their resolution (reach their goal), doesn't mean you can't.  Your behavior and decisions belong to you and are 100% in your control.
2.  Setting a goal improves your likelihood of success.   Simply setting the goal or making the resultion isn't enough, of course (which is why many people fail, all they ever do is "resolve"), but it is a critical and important step.
If you decide to resolve something in the next day or two, I assume you'd like to follow through or reach the goal… so, here is the biggest reason so many resolutions fail, and goals go unmet.
People don't know, or aren't crystal clear on why they are making the resolution or setting the goal.
It isn't about the 10  (or 5 or 25) pounds.   Why do you want to weigh less?
It isn't about the exercise regimen.  What is the benefit that you will derive from the process and result?
It isn't about reading that book on your nightstand.  Why do you want to read it?
It isn't about earning the next promotion or reaching the sales goal.  Why do you want those things?
When the why is strong enough we will figure out the how to do it.
So . . .
Before you make your New Year's Resolution or set your goal, decide why.  Make that why exceedingly clear and compelling.  and remind yourself of that why every time you think about the goal or resolution.
And if you can't come up with a great why, don't set the resolution, because your chances of success will plummet.
I wish you great success!
If you want some encouragement and advice to help you reach your goals and make your next 12 months your best 12 months ever, get our weekly email newsletter, Unleashing Your Remarkable Potential, delivered to your inbox. It's a great way to get focused and stay that way in pursuit of your remarkable goals.