In December of 2007 I started delivering a workshop, both in public settings open to everyone, and in-house for our Clients. At the time we were working with a marketing partner who wanted to name the workshop Leadership Training Camp, which is exactly what we did.
The workshop focused on some, but not all, of the skills and ideas in my best-selling book, Remarkable Leadership. And the full workshop and customized version of it have been delivered to people from around the world since then.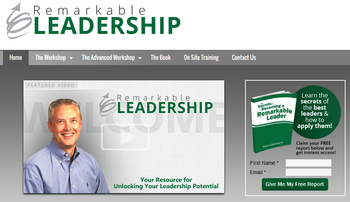 Earlier this year, we acquired the full rights to the program, and we have now re-branded the workshop as The Remarkable Leadership Workshop – and have unveiled a brand new website to support this branding. More than a name change though, we are continuing to adjust the learning experience, and you will see on the site how this is more than just a workshop.
So far this story is about us. But really the story is about you. Because this new site allowed for more than a name change. It allowed for the addition of some tools and resources, including a special report available for immediate download. This report highlights the most important things I have learned about developing leaders (and ourselves) over the last 25 years. (Check out the site and download it for yourself and others!)
The site also gives you a chance to learn how this workshop is evolving to meet the changing needs of leaders, and how you can work with us to bring these skills to you or your organization.
A new name, highlighting our focus on helping you become the leader you were born to be.
A new site, providing additional tools to help in that quest (and even a video of me!)
Take a look and see how we can support you – and download the Special Report to learn the Secrets of Remarkable Leaders.