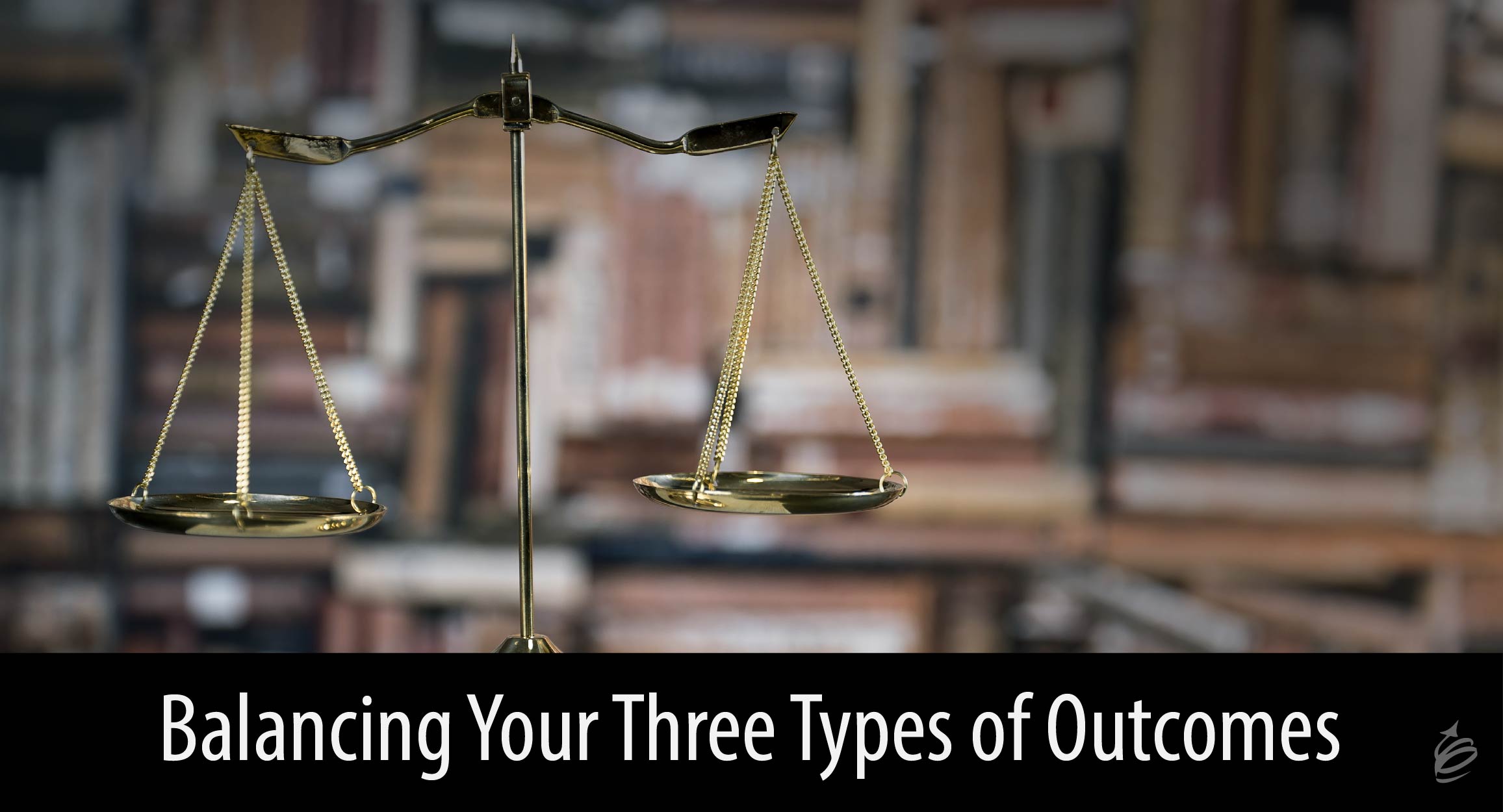 As a leader, you have a lot on your plate. Part of your focus is likely on the outcomes you are expected to reach. You might think of these leadership outcomes in different terms: goals, strategies, or objectives, but regardless of what you call them, you must think about and work on them regularly. In reality, there are three types of these outcomes, and until you think about them this way, you can't prioritize them most effectively.
Until you can view your work in these three buckets it will be hard for you to prioritize your efforts or guide the efforts of your team. The three types of outcomes are Organizational outcomes, Team outcomes, and Personal or Individual outcomes. Let's talk about each and then talk about creating a valuable balance.
Organizational Outcomes
Depending on where you sit in your organization, you may have a hand in creating or determining these, or these may be handed to you in the form of a strategic direction, annual goals, or quotas. While you may not own the creation of these goals, you must understand both the target and the purpose for them if you are to reach them and help your team reach them. If you don't understand these clearly, this must be job one. With understanding comes a responsibility to make that understanding clear to all those you lead. Until that understanding is mutually clear, you can't possibly create meaningful balance in work focus.
Team Outcomes
It is fine to know what the organization expects/needs from you, but that must be translated into goals and targets for your team. Take the time to engage your team in the creation of these targets. Use that clear understanding of the organizational outcomes to work with the team to answer the question, "What do we need to achieve as a team in order to reach the organizational outcomes?" Doing this allows for both alignment – the team targets support the desired organizational outcomes – and engagement – the team owns these targets because they helped create them.
Personal or Individual Outcomes
Alignment and engagement are equally important for individuals. Once the team outcomes are known, encourage individuals to create targets that allow them to support the achievement of the team goals. Done well, these goals will guide the daily work of each team member and insure that activities are coordinated and supporting the achievement of the team and organizational outcomes, as well.
Creating Balance
It all seems logical, and yet logic alone won't carry you to ultimate success in achieving these outcomes. As a leader, you have a responsibility to help create the outcomes in ways that improve understanding and commitment, and to support the achievement of those goals once they are set. By creating and communicating about the goals in the context of organization, team, and individual, you help people see the important bigger picture.
When people only see their own work product they will become too focused on those outcomes and create a bubble around their work. This mental bubble will keep them insulated from each other and may create conflict, misunderstanding, and nearly always suboptimal results in all three types of outcomes.
Some leaders fall into the same trap – becoming focused on the outcomes for themselves, assuming the team outcomes will take care of themselves. Other leaders become so externally focused on team and organizational outcomes that they forget about their personal contributions along the way. Neither of these extremes is the best option.
The best leaders avoid those extremes, keeping all three types of outcomes in mind and using them all to guide their work each day. This doesn't mean they just pile more on their to-do list. Rather, they actively ask themselves which outcomes they should focus on day by day – using this distinction to guide their thoughts and efforts.
Doing this Remotely
Everything you have just read is part of the role of any leader in any organization of any size. Leading a team that works remotely from each other heightens the need to balance (and importance of balancing) these outcomes. Remote leaders will need to work harder to build understanding of the organizational outcomes, spend more time and creativity to get ownership in the created team outcomes, and keep all those in the remote team members' minds.
When people work alone, without your leadership help, people will tend to become hyper-focused on their individual outcomes, placing their focus and definition of success on what they achieve, not on how that contributes to the larger picture.
Now What?
Take some time today, or at least this week, making sure all of your work and your leadership effort can be tied to one of these three types of outcomes, and begin managing your work and focus based on these three areas. You will find greater clarity, and likely become more productive, both personally and in your work leading others.