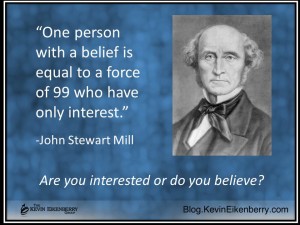 This month, members in the Remarkable Leadership Learning System are focused on improving their skills at communicating change. Perhaps that is why this quotation struck me so hard this week. There are many implications of this powerful idea, change being one of them. More below. But first, your weekly questions and action steps.
Questions to Ponder
– Are you interested or do you believe?
– Who else believes?
– How will you harness your belief today?
Action Steps
1.  Sort out things you have interest in vs. things you truly believe in and care about.
2.  Match this list up with your goals.
3.  Re-prioritize your goals, based on this exercise and watch you achieve far more, far faster.
My Thoughts
What do you believe in?
Do you know the answer to that question?
Taking the time to know the answer to that question can make your life and your decision making much easier. As a leader, leading form your beliefs isn't just powerful, it is practical, too. You will make decisions faster, be more passionate, have more energy, and generate those same characteristics in those that follow you.
If you believe in a change, communicate and show your belief.
If you are starting a new project or team, select people with belief, not just interest.
If you need to prioritize your work, goals, or life, consider the belief filter first – it might be the best and fastest one to apply.
There is much more I could write about this, but you will be better off to ask the questions and take the actions above, rather than reading more of my words.
So, do you believe or are you just interested?