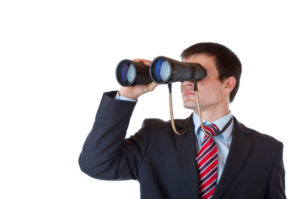 Typically in these weekly "powerquotes" posts I feature a quotation from a famous, or at least known person.   Today that isn't the case.
I don't know Dan Ivey, though I found his LinkedIn profile just now.  His quote came from a Fast Company email in my quotation archives from 2004.  I'm pleased to share it with you.
"Most employees have the ability to be a visionary, but have not been trained to express it."
– Dan Ivey, Senior Manager, Lockheed Martin Missiles and Fire Control
Questions to Ponder
Am I a visionary?
 How can I develop my vision?
Action Steps
Look to the future today, thinking about what you see.
Look to the future today, thinking about what you desire.
Own your vision and work to clarify it.
Help others do the same.
My Thoughts
There has been a lot of talk about vision lately with the passing of Steve Jobs – much of that talk has been about how good he was at it, and by comparison how poor most others are (see my post about The Comparison Trap).  I don't really think, for us as leaders, that this quotation is really about vision.
It is about belief.
It it likely neither you nor any of your team will be as visionary as Steve Jobs.  But that is an irrelevant question.   The relevant question is, do you believe that your folks can create and see a vision?
Not can they today, but could they be encouraged to, invited to, taught to?
I'm with Dan, I believe they (we all) can have a powerful vision.  Your job as a leader is to see that capacity or potential and help people use and develop it.  When you do, your people will grow, and so will your organization's results.