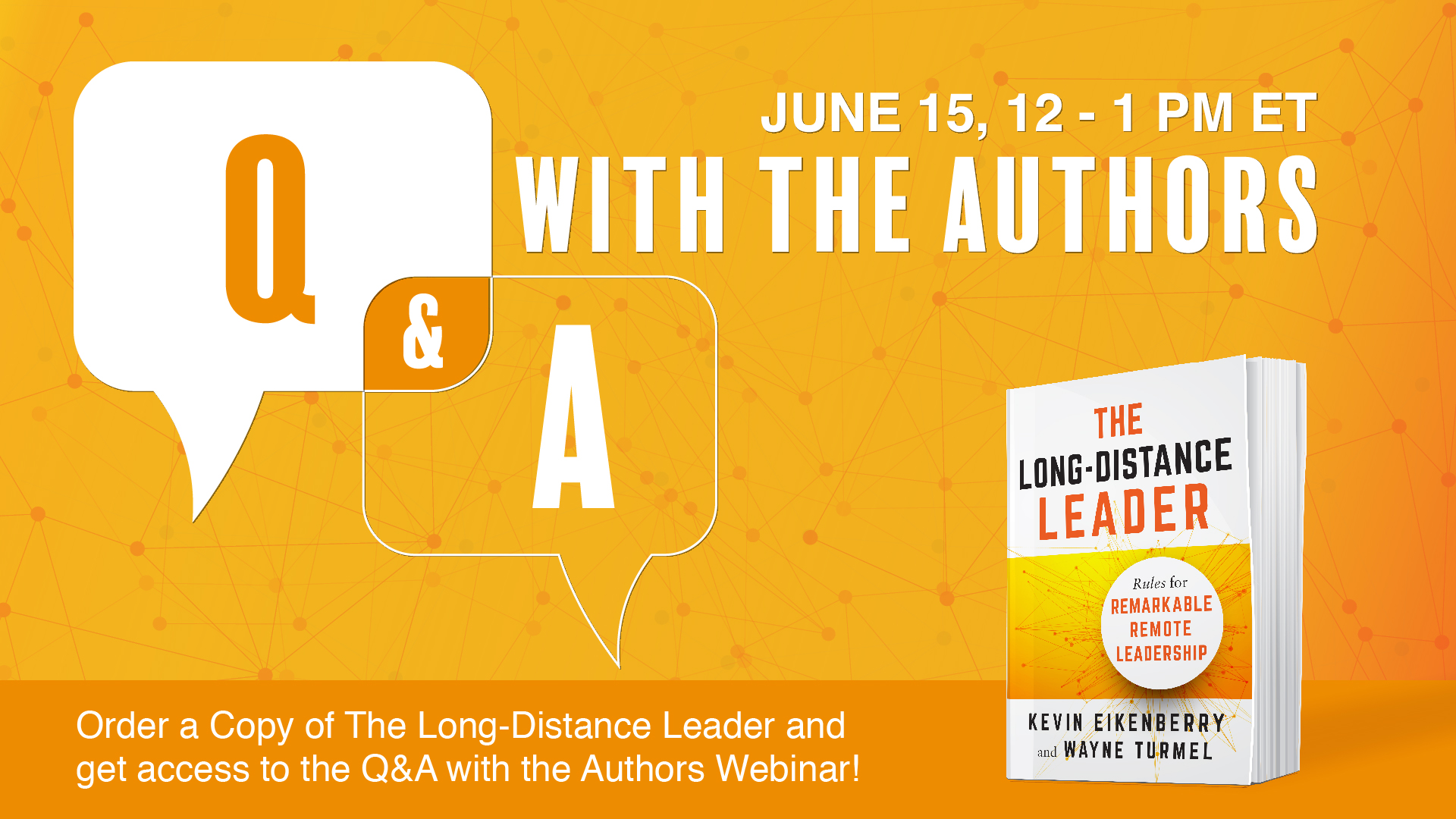 Often in this space, I talk about a webinar where an expert will share powerful ideas with everyone who registers. Those learning experiences give you access to that expert, and even though we open those sessions for questions, it is mostly one-way – expert to audience. Today, I announce a very different learning experience.
This Friday, June 15, at noon ET, Wayne Turmel and I, co-authors of the recently released The Long-Distance Leader: Rules For Remarkable Remote Leadership, will jump on our web platform with you: on camera and ready to talk about whatever you want.
What will we talk about?
We will bring no agenda, no learning objectives, and no net. You can ask us anything you want. Ask as about…
Writing a book
Working together
Remote leadership
Communication at a distance
Leadership in general
Coaching
Delegation
…whatever you want.
You ask, and we will answer. And chances are, other participants will ask questions you want answers to but haven't even thought to ask yet.
What is the cost?
Unlike most of the webinars I mention here which have a cost over $200, this one will cost you less than 10% of that. In fact, this live event is completely free. All you need to buy a copy of our new book, The Long-Distance Leader, and register on our site so we know you have purchased. Registering your book purchase is the only way to gain access to this event.
If you have ever read a book and then wish you could have talked to the author, or wished you knew more about the author before you read a book, this is your chance.
You really have no agenda?
From a topic perspective, no – we hope you will ask for our perspective on whatever leadership issues you have. We do have a couple of planned activities near the end of this call, though.
We will announce the last of our daily winners (drawn from book buyers) giving away:
A seat in one of our virtually-led learning experiences offered at The Remote Leadership Institute. ($349 value)
A 30-minute, one-on-one consult with your choice of Wayne or myself ($300 value)
We will also announce our grand prize winner of a seat in our complete Remote Leadership Certificate Series (a $1500 value); and probably some other things as the mood strikes us – and likely only for those on the line with us live!
Final Thoughts
So let's make this clear – you get a once in a lifetime opportunity to ask your questions of two authors at once, the chance to win some valuable prizes and have some fun in the process, and it will only "cost" you the price of a copy of The Long-Distance Leader.
Buy your copy, get registered, and we look forward to spending an hour – or more if you all keep asking questions – with you on June 15th at noon ET.
POST UPDATE:
Since the book launch in June 2018, we are offering new and different bonuses with the purchase of The Long-Distance Leader. To learn more and order a copy, visit the book site here.