By Walter Isaacson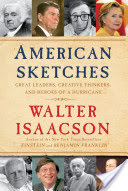 Walter Issacson is an accomplished biographer – he's written bestselling and acclaimed books about Einstein, Kissinger, Ben Franklin and Steve Jobs. His most recent book, The Innovators, has been on the best seller list his year. He's also been the CEO of CNN and the Editor of Time Magazine. Knowing all of this when I saw this book on a used bookstore shelf, I was intrigued (this book published in 2010).
I picked it up based on his skill and experience and the subtitle's promise: Great Leaders, Creative Thinkers and Heroes of a Hurricane. Then the book languished on my reading stack for I'm-not-sure-how-long.
Now I'm glad I bought it and glad I read it.
This book is a compilation of essays and articles the author has written over a number of years – given that, this book is easy to pick up and read in small chunks of time. While the essays are effectively grouped together, each essay stands alone and is prefaced by a comment about when and why it was written.
While I have written about the importance for leaders to read about other leaders and understand history before, the reason I have chosen to recommend this book has an additional component. Yes, many of the essays are directly about leaders and leadership choices and situations, making them compelling and instructive. I was struck however by an additional dimension. These essays were written and published in real time – in the New York Times, Time Magazine and more, and now, we read them years later with the additional perspective of time to consider the messages. It is different to read an essay about Colin Powell (as just one example) today in real time, that was written 10 years ago, than it is to read a biography about the same person and events written later.
This book is a treasure trove of lessons for us as leaders if we look for them. The rich combination of the characters written about, the perspective it is written from (and perhaps precisely because it isn't written as a business book), and the skill of the writer makes this book well worth reading.

I encourage you to add it to your stack for 2015. Just don't wait as long to start it as I did.