By Bob Burg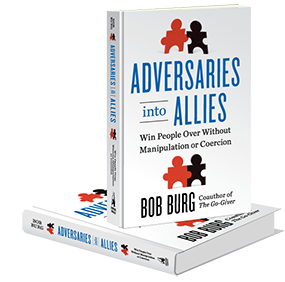 On Halloween, a book was released that I predict will become a classic.
Here is the premise; that we transform relationships with people from a place of disagreement and distrust to a place of agreement and alliance.  And we can do that without force, manipulation or the like.  And – the transformation starts with us.
At the start of the introduction the author quotes the Talmud with an idea that appropriately foreshadows the whole book – "Who is Mighty?  Those who can control their own emotions and make of an enemy a friend."
The book then provides us with a valuable model of five principles to help us create "Ultimate Influence" (which "encompasses not only the ability to move someone to action, but the manner in which you move them").
Those five principles are outlined at the start and then illuminated with examples and short, punchy, easy to read chapters.  The Principles are:
Control your own emotions
Understand the clash of belief systems
Acknowledge their ego
Set the proper frame
Communicate with tact and empathy
The book is well written and conversational in style which makes the points even more clear and accessible.  In fact, reading this book makes you immediately feel like an ally of the author.  As it turns out I have the privilege of knowing the author Bob Burg.  Bob's books have collectively sold over a million copies and their principles have helped countless businesses and individuals become more effective – me included.  I've recommended many of those books here, including here and here.
Bob has said this is the book he is most proud of.  I can see why.  All of us want to be more influential and our jobs require it.  This book will help you do it in a wonderful and mutually beneficial way.
I give this book the highest recommendation I can give – and I hope I've influenced you to get a copy and read it.