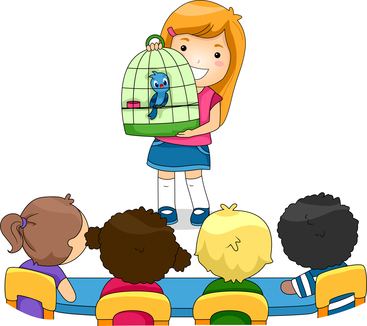 Apparently today is Show and Tell Day at Work.
Who knew?
When I read this fact, it got me thinking . . .
I went back to Mrs. Fredrick's kindergarten classroom on a warm spring day. I was called to the front. It was my turn to share! No, I don't remember exactly what I showed off, but I remember feeling great to have the chance to share it. And I have many other memories of "show and tell" in general, and I'm guessing you do too. I'm not an elementary aged educator, but I can guess that some of the reasons "show and tell" is a mainstay classroom activity is that it:
Builds self esteem
Allows kids to practice speaking in front of groups
Provides a chance for self-discovery (by thinking about what to bring and share)
Helps build personal pride
Read that list again and leave your thoughts of elementary school behind. Maybe show and tell day at work isn't such a bad idea after all!
I don't think we need to have a specific workplace exercise that looks like "Show and Tell", but I do think there are workplace lessons here worthy of our consideration. Let's start with some universal truths.
Show and Tell Truths Revealed
The act of sharing our work makes a difference in and of itself. Knowing it will be shared changes our approach to the work, whether we are consciously aware of it or not.
Sharing provides a sense of pride. A feeling of pride is valuable to all human beings at all ages. When we can feel a sense of pride, good things happen emotionally and in this case with our work.
Sharing provides meaning. More than perhaps anything else, we want a sense of meaning in the work that we do. Sharing it with others helps us see that meaning and helps others see it too.
Sharing creates enthusiasm! Step into any classroom during show and tell, and you will see it. Notice anyone talking about something they are proud of and you will see their enthusiasm grow. And who doesn't want more enthusiasm in the workplace?
Sharing creates positive peer pressure. It isn't just kids who are impacted by the thoughts of others. And while we often think of peer pressure as a negative thing, it isn't always. When we are all sharing, all of us want to do better to be seen in a positive light by our peers (and boss). A rising tide lifts all boats.
Sharing stokes innovation. When you know what others are working on, you will get new ideas. When the sharing provides a chance for dialogue, new ideas will be spurred. Let people share what they are working on and what they are trying!
Sharing promotes momentum. When meaning and pride and enthusiasm are in place, momentum grows. And with momentum in the right direction it is hard to stop improvements and growth.
Sharing builds culture and team spirit. Who doesn't want more of all of the things on this list? When we provide opportunities for people to share, we provide the nutrients for growing a positive culture and climate, and a more engaged team.
Some Leadership Applications
As I've already said, I am not suggesting a team exercise that looks exactly like the Show and Tell of your youth. ("Bobby, it's your turn, what did you bring to share with the class today?…"), but don't lose my message in that detail. Rather, here are just a few ideas that you can apply to begin to create these powerful outcomes for yourself and your team.
Give people a chance to share their progress with others on the team. This is the best scenario for a staff meeting – when people are sharing progress and results with others.
Give people a chance to share their progress and results with others in the organization. You don't need to make all of the presentations to management, do you?
Let people attend meetings for you. Send a representative to a more senior meeting, giving them a chance to share your team's update in your absence.
Let people share team results. People can share the results of a team, show and tell doesn't have to be just about "me."
Listen to people when they want your time. One thing people want is the chance to share with you. Show and tell doesn't have to be a presentation in front of a group. It might just require five minutes of your time – and attention.
There are more reasons and applications, but I've hopefully given you a chance to reflect on some pleasant memories and enough solid ideas to help you move forward effectively.
How will you implement Show and Tell today?