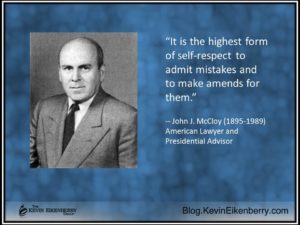 Mistakes – we all make them, but we don't always handle them so well.  Today's quotation struck me as a valuable way to think about them (and suggests an approach to them). I hope you enjoy it as much as I do.
Questions to Ponder
–  How readily do I admit mistakes?
–  When is it hardest for me?
–  Is there a mistake that I need to admit today?
Action Steps
1. Admit a mistake today.
2. Do what you can to make up for it.
3. Learn from it.
4. Realize they happen and move on!
My Thoughts
All of us can learn to handle and respond to mistakes better. But perhaps more than other groups of people, leaders really seem to have challenges with mistakes. Somehow, many of us have come to believe that because we are "the boss," we are supposed to have all the answers and never make a mistake.
You can check – I'm confident infallibility isn't in your job description.
In fact, as a leader, we must really be comfortable doing what is suggested in today's quotation. Our example is the best way to encourage others to share and admit their mistakes so everyone can learn from them.
Today's quotation takes it all a step forward by saying that we are respecting our self when we are open and willing to share about the mistakes we have made.
We've all made mistakes. It is what we do afterwards that will make a difference in our results, as a person and as a leader.