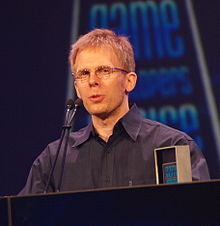 We have all gotten stuck on a decision – where either both options look good, or neither one looks so good.  In those moments, we often wait, stymied or stuck.  Today's quotation gives us another approach, and, by it's suggestion, gives us a nudge.
Do you have a decision in front of you today?  If so, read these words extra carefully.
"If you aren't sure which way to do something, do it both ways and see which works better."
– John Carmack, computer game programmer

Questions to Ponder
In what situation could you apply this approach today?
Have you ever taken this approach before?
If so, what were the results?
What would be the worst thing that would happen if you tried this approach?

Action Steps
1. Look at your options.
2.  If they look about equal, stop deciding and start on both.
3.  Decide which one to proceed with once you have some real results.
My Thoughts
To me, the wisdom of this quotation is two-fold:
– action usually wins
– it is possible there is more than one right answer.
When faced with a decision, most of us try to make the best one.  That is how we were taught, and that lesson comes from the underlying lesson of school – there is a right answer, and we succeed when we find the right answer.
Perhaps it is instructive then, that the author of our quotation today, according to Wikipedia, didn't finish high school.  Maybe he rejected the "one right answer" logic, making school more challenging for him, because it certainly wasn't because he lacked the mental capacity to succeed in school.
There is more than one right answer.  Look at most achievers and you will find that they favor action, improving their odds by working on more than one approach, more than one project, more than one solution; all in service of their problem, challenge, or goal.
If you want to achieve more faster, take action and work on more than one thing at a time.  That is the lesson today, and that is my urging to you – act and decide, not always decide then act.