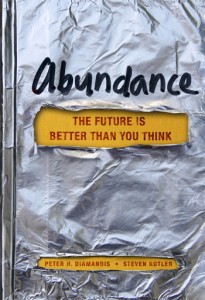 Today's Resource Recommendation is Abundance: The Future Is Better Than You Think by Peter H. Diamandis  and Steven Kotler.
Read the subtitle again, outloud.
The future is better than you think.
Yes, the world has big problems: famine, water quality and quantity, population growth, disease, and disappearing energy resources.
And this book says that the future looks bright anyway. In fact, the authors define abundance as "a world of nine billion people with clean water, nutritious food, affordable housing, personalized education, top-tier medical care, and non-polluting, ubiquitous energy." And then they spend the book quite convincingly describing the factors and technologies that will make this all come true.
And they don't see it as science fiction, like it will come true far in the distance, but rather most will happen in the next 25 years – with significant change seen in the next ten.
They focus on three major factors that will make the difference and speed progress towards these outcomes. DIY (Do it Yourself) Innovators – the ability of small organizations, and even individuals to make contributions in highly technical areas like computing, biotechnology, and space travel; Techno-philantrophy – the rising trend of younger wealthy individuals who are more philanthropic than ever, and who are applying their efforts to global solutions; and the rise of the bottom billion, which is happening in large part because of the communications revolution, where cell phones are spreading to even the poorest areas, allowing people to plug into the world economy as both producers and consumers.
I'll leave the specifics of the technologies and predictions to the book or more complete reviews. And I am certainly not in a position to say each of these predictions is correct. Here's the reality – if half of the technologies and predictions made in this book happen, they will make this world a profoundly different, and better, place. I believe that this book, along with The Rational Optimist (recommended by me here and a great companion read) should be required reading for any leader who is looking to the future and wants lead himself and his organization towards it successfully.
You will not get a new technique or strategy from this book. What you will get is a new perspective on the world and how your organization might fit into it.
The future is coming. As leaders, we must always be looking toward it, and this book gives you a useful glimpse at what that future might be.