Even though most people would say we are in the training business, we don't see it that way.
Yes, we deliver training, and so we are intimately aware of both the benefits and the limitations of that method of transferring skills and knowledge. There are many benefits training can provide.  Here are just a few:
Training provides an atmosphere in which to learn; a chance to be inspired and have light bulb come on.
Training provides social proof and reinforcement that new ideas can work.
Training, especially the best training, provides an opportunity to practice new skills in a safe, controlled environment.
Training also has a grave limitation . . . it's not the real world.
Learning new ideas, and even practicing them in a safe, supportive environment, is great. But the real world provides far more complexity and uncertainty. In the end, using the skills in the real world is where the tremendous returns on training investments come.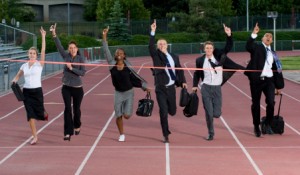 So how can we move past training, to the real world, and help learners really apply what they have learned?
One part of the solution is ongoing support.  Here's an example we employ.
Mastery Coaching
For our two most popular, and most frequently offered public workshops, Bud to Boss (leadership skills, especially suited for new leaders) and the Ultimate Communicator Training Camp (improved communication skills for professionals at any level), we've built a Mastery Coaching program that attendees can invest in to provide that ongoing coaching, support, encouragement, and advice.
In this program, participants can engage in twice-monthly, group tele-coaching calls with one of our Master Coaches for a full year.   This gives them a chance to try, get feedback, and improve, so that the skills they wanted to learn and were exposed to in training, become a part of their real-life performance.
Note: For the Month of February, if you or your team members are one of the first five to sign up for one of our upcoming locations, you will receive the Mastery Coaching as a bonus for three full months after your workshop. Learn more and sign up at Bud to Boss or Ultimate Communicator now!
If you are responsible for training and learning investments in your organization, I encourage you to look for ways like this to create better support for real-life learning.
If you would like to discuss how we can help you implement this, or other innovative strategies (or bring the workshops into your organization) contact Barb and she'll help you get started.