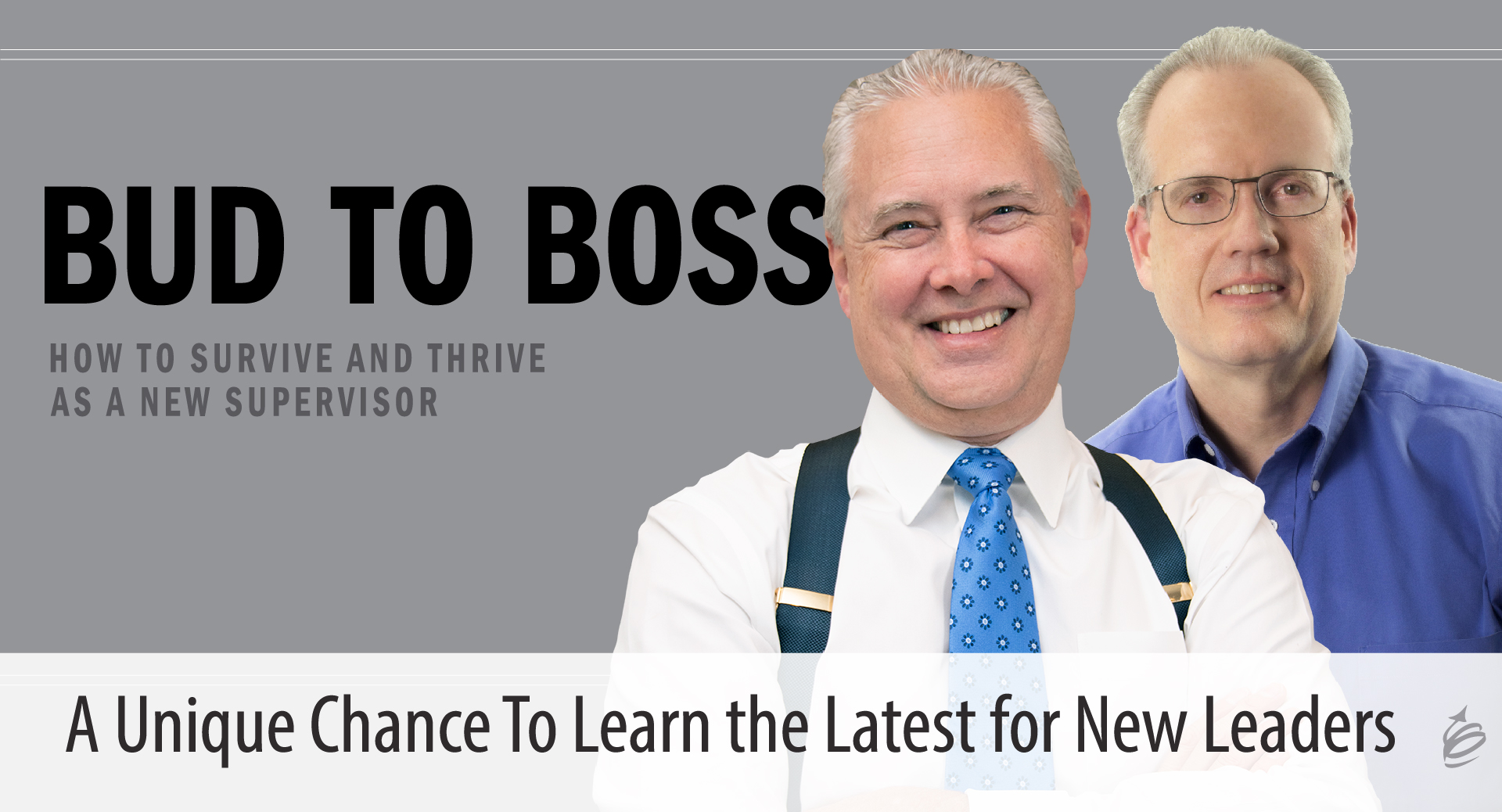 Over twelve years ago, we created a workshop to codify what new leaders needed to know to succeed in the most challenging career transition -moving from "bud" to "boss." Ten years ago, Guy Harris and I published From Bud to Boss: Secrets to a Successful Transition to Remarkable Leadership. The principles and lessons in the book are timeless. Yet, we have learned much more about new leader development in the last decade. And we want to share that knowledge with you.
To our way of thinking, a celebration of ourselves would be a bit shallow. We decided the best way to celebrate would be to benefit as many leaders as we could. That is why we created an ongoing 10th Anniversary Bud to Boss Celebration.
The celebration runs from April 15 through June 2. A series of Facebook Live events, culminating with a brand-new webinar, Building Your Confidence as a New Leader. This entire celebration is available to you and any leaders that you want to invite, completely for free.
Later, we will promote the final webinar as a stand-alone event, and charge for it. But when you sign up for the full celebration now, you will get a seat in that webinar with our compliments.
What Will We Be Talking About?
Some Facebook Lives are pretty silly and not worth your time. In this series of seven Live sessions, Guy and I will be sharing the biggest time-tested principles from each section of the book, plus what we have learned in the last ten years about each of these important areas. Much of this has never been shared, and definitely has never been shared in this interactive format before.
You will be able to ask us any questions during any session, but we are doing a seventh live that is all Q&A. Guy and I won't be bringing any pre-defined content. Just our ears to hear you questions and give our best advice and counsel.
Specifically, here is the Facebook Live schedule, each happening live at noon ET.
April 15: Succeeding in Your Transition to Leadership
April 22: Change
April 29: Communication
May 6: Coaching
May 13: Collaboration
May 20: Commitment to Success
May 27: Live Q&A with the Authors
Ready to get your free seat in all of these, plus the webinar on June 2? Sign up here!
Opportunity in Front of You
If you are interested in new leader development for yourself or your organization, you can't find a better deal than this. The chance to learn from and interact with two people who have been in the trenches helping new leaders for over 15 years and who a decade ago literally wrote the book that has guided many in their development over those years.
Even if you aren't sure you can make all of the Lives, register now to get the free webinar with me at the end of the celebration. The content of the webinar will not be a rehash or repackaging of the Facebook Live events. It is a stand-alone webinar that I am creating especially for this celebration.
Don't Want to Wait?
If you are ready to invest in new leader development, we can certainly talk to you about how we can help with coaching, consulting, virtual, e-learning, or face-to-face solutions. Simply send us an email and we will be happy to see how we can help.
If you know you need some help, but don't have a plan yet, or don't even have a budget, share the link to this celebration to start helping your new leaders right away