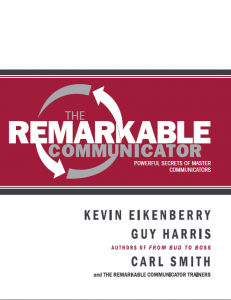 I'm writing a new book with Guy Harris and Carl Smith – along with our certified Communication Skills trainers – on the uber-important skill of communication.  The book is called The Remarkable Communicator: Powerful Secrets of Master Communicators.
The book won't be out for a while, but today we give you access to a special two chapter sampling – one chapter from Guy on choosing a communication technique, and one from me on storytelling – just one of the many techniques that will be explored in this practical communication handbook.
Why are we offering these chapters?  To give you great content, to improve your communication skills and to build some excitement for the book before it arrives.
I hope you download your sample chapters now – and if you like them, invite others to join us and do the same.