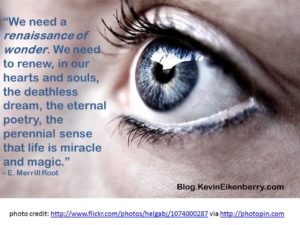 This season is often described as a season of wonder. While that is an apt description, why wouldn't any season be a season of wonder? Are there always things to marvel at and be in a sense of wonder for?  Even in a week after the horrible events in Connecticut, this is still (and always) true, and perhaps now we need to remember it more than ever. I was thinking about that idea this week, when I found this quotation.
When I was about 2/3's finished writing this post, I realized that I had used this quotation in a post back in March. Rather than start over, I decided to finish, for the reasons above .  We need this sense in our work and lives.  Read on.
"We need a renaissance of wonder. We need to renew, in our hearts and souls, the deathless dream, the eternal poetry, the perennial sense that life is miracle and magic."
– E. Merrill Root, educator
Questions to Ponder
– What wonder have I seen today?
– Would I have recognized it if I did see it?
– How does seeing the wonder around me change me?
Action Steps
1.  Slow down (yes, even at this busy time of the year).
2.  Create your own renaissance of wonder – decide that you are going to look for the "miracle and magic" of life.
3.  Smile when you see things that cause you wonder – because you will find them.
4. Read I Wonder Where the Wonder Went
My Thoughts
On first thought, you might think today's quotation is just a feel good, positive attitude kind of thing, without any direct application for us as leaders, achievers, and learners.
You would be wrong.
Seeing good things in the world changes our outlook and attitude.  Seeing things that we don't understand and can't explain provides us perspective.  Making the conscious decision to look for these things provides us a fool proof way to reinforce an outlook, attitude and perspective that will make us happier, less stressed and more productive.
And as a leader, as we do these things, and reap these benefits, we also help create the same results for others.
It's time for a renaissance.  A renaissance of wonder.