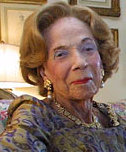 I love today's quotation (more on that later), but here is the back story to my selection today. While the quotations on which I base these Friday posts sometimes come from something I've recently read, often the quotations I select come from my files and database – and that is the case today. When I did a little research on Ms. Astor, I learned that the auction for her extensive estate will take place next week. (You might find this interesting.)
Learning a bit more about the person and the context makes today's quotation even more interesting, even though my goal, as always, is to help you personalize the message in the idea shared.
Serendipity is a wonderful thing, isn't it?
"Power is the ability to do good things for others."
– Brooke Astor, philanthropist
Questions to Ponder
– How powerful do I consider myself to be?
– How does this definition change my view?
– How could I be more powerful today?
Action Steps
1 .  Do something good for someone today.
2.  Make it a priority.
3.  Start right now.
My Thoughts
Power is a word loaded with meaning and emotion for most people.  Some leaders aspire to leadership so they can have more power, and some have trouble recognizing and using the power they do have.  I hope that this short post will get you thinking about how you view power and how you feel about having it.
Leaders have positional power, and with it, comes great opportunity and responsibility. When you view those responsibilities and opportunities through the lenses of today's quotation (and act accordingly), you will have far more than positional power.  You will be more influential, make a bigger difference, and be happier, too.
As a leader, you have resources and a perspective that can make a difference. Use your position wisely, and you will have more power than perhaps you want – but it will have come from focusing on others, rather than seeking the power itself.