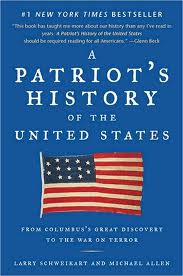 Today's Resource Recommendation is A Patriot's History of the United States: From Columbus's Great Discovery to the War on Terror by Larry Schweikart and Michael Allen.
Sometimes, I recommend a book here that seems a bit out of place. You might wonder why a leadership and professional development guy is reviewing a four year old book about American History.
Why this book? First of all, because I am reading and enjoying it and secondly because there are links between understanding history and our ability to lead more effectively in the future and, hey, it's my blog . . .
This book is marketed on the cover and elsewhere as a book about American history from a conservative point of reference.
I am reading it for a view point of our leaders from the past; I'm considering what they did and finding some different perspectives on their decisions and results.
And, while it seems to me that any book of history is going to be influenced by the perspective of the writers, these authors are up front about their perspective. They include extensive citations and notes. So, whether you agree with their perspective or not, you will appreciate the authors' care in presenting their viewpoint.
I'll leave the conservative/liberal history discussion for others.
As I read this book through a leadership lens, I am fascinated. The book provides a broad glimpse of the tough decisions leaders have had to make, decisions that led to the creation of one of the most powerful and influential countries in the history of the planet.
This book isn't a walk in the park; it's 2.3 pounds and 960 pages in a small font. But if history is your thing, or if you'd like to think about leadership through an historical perspective, I'd recommend this book for long afternoons and plane flights.