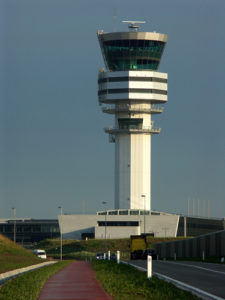 Over the last couple weeks you have heard about it – the unfortunate incidents of air traffic controllers falling asleep on their overnight shifts.
First, let me say this is clearly a situation no one wants to happen – not the flying public, not the FAA, and not the individual controllers.  This is a safety problem, a public relations fiasco and, as it has turned out, a leadership lesson (do't believe me, read on!).
Yesterday (and again today) I heard Secretary of Transportation Ray LaHood state that "safety is the number one priority" and he also stated, in different ways, that people won't be working as controllers alone at night – the plan is to hire more controllers so that overnight people will work in pairs.
Yesterday while pondering this situation I tweeted the question:
"Is hiring more controllers the solution to sleepy controllers?"
While I only got a few responses, no one really said yes.
And after I tweeted it I kept thinking about it and have done a bit of research.
It appears that controllers work schedules often (or at least sometimes) include an 8 hour shift, an 8 hour break and another 8 hour shift.  To which I have several comments, including
Pilots can't legally operate under that work schedule
an 8 hour break means significantly less than 8 hours  of sleep
Lots of people return to work after an eight hour break (but how many are going to work alone in a dark workplace with often very light workload?)
Lots of companies have figured out ways to rotate shifts to help people come to work fresh and highly productive.
While I am not an expert on sleep and work, nor the schedules of air traffic controllers, all of this rasises some questions about the approach Secretary LaHood has taken.
Should saftey be at the forefront of the conversation?  Of course.
Should steps be taken to fix this problem?  Of course.
Is the best response always to offer an immediate solution?  Not at all.
Is it possible, that our first reaction might not always get at the root cause of the problem? Definitely.
Will hiring more controllers solve the root cause of this problem?  I'm not convinced.
I'm really not trying to viliafy Sec. LaHood – he is under pressure to do and say somthing for sure, yet I believe we can all learn from his decision.  As leaders we are often under similar pressure even if the situation isn't as public – and often leaders make the same knee-jerk response.
Consider that as a leader we must be willing to take action and accountability (for which I give Secretary LaHood credit), and we must solve problems from the root cause (which I don't believe he is doing at all).
Here are three possible leadership considerations that "hiring more controllers" won't address:
Perhaps there are work schedule issues.
Perhaps expectations aren't clear (while you could argue people "should" know they can't sleep on the job", that doesn't mean they do know).
Perhaps workplace accountability needs to be strenghtend (it is now the responsibility of controller #2 to keep controller #1 AWAKE?).
Perhaps some changes to the night shift work process or work description could change (why not give additional tasks, or process imporvement efforts, or something to the night shift role – to keep them more active – and awake?).
None of us are in Secretary LaHood's place, and yet his situation is one we can learn from.  If this were your role, what leasdership steps would you be taking today, tomorrow and next week?