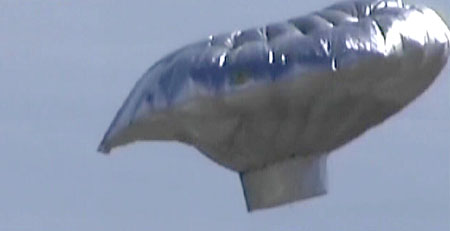 It happened last week, and captured the attention of millions.  A balloon floating across Colorado, apparently with a little boy in the basket.
The drama was apparently captivating  (I didn't know about it until the following morning) – a run away balloon, a trapped little boy, frantic parents, and news media to send it out for all to see.
Of course now it appears we know the rest of the story, and it is in the rest of the story that our executive leadership lesson comes.
Most corporate leadership communication challenges can glean lessons from all sorts of media to help us cut through the clutter, craft a clear message and more.  I'm sure many would like to get the mindshare and conversation of their employees that the "runaway balloon" got last week.
Think of the father, Richard Heene,  in this story as a leader for a second.  It appears now that his goal was to generate publicity and gain attention; and then use that attention to communicate his desirability for a reality television show.
The first part worked, like a charm.  And as leaders with a little work, you can create a communications splash to gain the attention of your team.
The second goal didn't go so well.  Dad got a lesson from his son, when he said, on national television, "you had said we did this for a show."  The son was authentic, and, from what we now know, likely was telling the truth.
So while leaders can follow Dad's example to get attention, that attention is lost and greater damage done if the message being sent isn't real, genuine and authentic.
There is an important leadership influence lesson here – don't let it get lost in the CNN/People Magazine media hype.
You can get temporary results with flash and technique, but real leadership results will come from your authenticity and honesty.
Effective leadership skills are all predicated on your intention and your authentic actions to demonstrate it.   Anything less leads to success as elusive as a floating balloon.