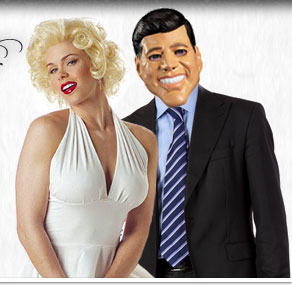 In the next couple of days you will see people of all ages dressed in costumes.  Perhaps you will even don one yourself.  Whether you are staying home and handing out the goodies, or hosting or going to a Halloween party, I have a leadership challenge and opportunity for you.
This challenge can be accepted regardless of how you feel about costumes or this holiday.  If can be something you do informally for a couple of minutes, or it could spur deeper thought for you over the next several days.
Don't be scared – regardless of how you approach this challenge it should be fun. (Mixing learning and fun together is always a good combination – even better than caramel on apples!)
Are you ready?   It is a bit tricky, but really all treat for a leader who wants to improve. . .
Notice a Halloween costume (whether what you are wearing or someone else)
Think about the attributes of that character.
Translate the attributes to leadership lessons – ask yourself what leadership lesson can be gleaned from that character?
Spend time thinking about that – stretching your mind if it seems difficult.
Determine how you can apply that lesson for yourself.
If you are doing this more formally, write your thoughts and lessons in your learning journal
Repeat for as many costumes/characters as you'd like!
Want an example?
A quick search shows that Lady Gaga is one of the most popular costumes this year.   While I am not a Lady Gaga expert, if I think about her, what leadership lessons might I gain? First, what are a few attributes about her?
She is highly creative.
She doesn't seem to care too much about criticism – she follows her plan.
She seems to be driven by her goals.
She is highly successful in her chosen field.
She a very successful marketer.
(feel free to add to this list)
And the lessons?
There are multiple leadership lessons in each of the attributes above – I'll leave it to you to determine what is most meaningful to you.
For me, today, as I write this, I am struck by the creativity, all seemingly focused on her goals of building buzz and selling music and concert tickets.  I am not always that creative in my approaches, and I believe that, as a leader, if I do a better job of this (and/or supporting my team to do more of it as well – both through my example and encouragement) we will collectively get better results.
This insight is meaningful for me, and gives me much to think about – all because I thought about someone in a Lady Gaga costume.
While, as the old commercials said, "your mileage may vary" – not every costume will give you a great insight – not every lesson will be the one you most need right now.
But if you take my Halloween Leadership Challenge, I am confident before November comes you will have at least one great insight to help you become a more effective leader.