I'm guessing that nearly half of those reading have been in a situation to ask some to a high school prom.  Until a few days ago, I thought everyone had to basically do the same thing.  Walk up to, or call, the intended and ask them, in one way or another "Would you like to go to the prom with me?"
This was my thinking until recently, when I heard about the custom near Knoxville, TN.  My nephew Chase West had the dilemma many of us have faced, but the tradition at his school is to find a creative way to ask the stressful question.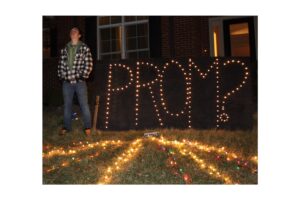 His solution?  To drill holes in a piece of plywood to spell out "PROM?", install white Christmas lights in the holes and place it in the young ladies front yard.
She said yes.
This post isn't really about prom invitations, but Chase's approach is creative, effective and instructive. 
This post is about asking a different question, beyond the initial, traditional and obvious one.  And it is about finding a new way to get to a needed destination. 
Consider these questions yourself, or in your next team or project meeting.
What approaches in your business have gone unchallenged?
What opportunities for improvement, growth are going unexplored?